Chief Petty Officer Stoker Alfred James Wrench, 17718, BEM MID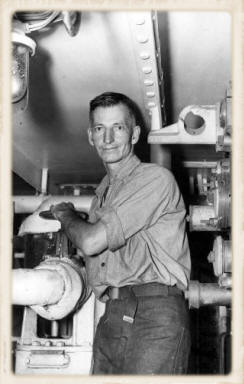 Alfred James Wrench (1904-1987), seaman, was born on 4 May 1904, at Airly in the Central Tablelands of New South Wales. He was the son of George Wrench, a miner, and his wife Anna (nee Knight).
Wrench joined the Royal Australian Navy (RAN) as a Stoker 2nd Class in July 1926. He completed marine technical training at HMAS Cerberus and the fleet repair ship HMAS Platypus, before being deployed as a qualified Stoker on the cruiser HMAS Melbourne.
His early career was typical of many technical sailors during the inter-War period: he gained his auxiliary watchkeeping certificate in 1929, stokehold watchkeeping certificate in 1936, and oil fuel and internal combustion engine certificates in 1938. With a very good character and superior technical ability, Wrench was promoted Leading Stoker in 1933 and then Stoker Petty Officer in 1936. He married Madge Marion Harris on 2 July 1932 at St Mary's Cathedral, Hobart.
At the outbreak of World War II in September 1939 Wrench had the technical and leadership skills that the RAN required. He was posted to the old destroyer HMAS Waterhen and travelled with her to join the British Mediterranean Fleet. Wrench served in the Mediterranean for the first two years of the war. He was promoted to Chief Stoker in October 1940, the highest non-commissioned rank in his branch at that time, and transferred to HMAS Vampire.
He participated in the Greece and Crete operations, the Malta convoys, and the 'Tobruk Ferry', which supplied the Australian garrison at Tobruk.

Wrench later received a mention in dispatches for "outstanding zeal, patience, and cheerfulness and for setting an example of whole-hearted devotion to duty" during his Mediterranean service on Vampire.


The destroyer Vampire, with Wrench onboard, was sent to Singapore for refit in May 1941. When Japan entered the war, Vampire was once again in the thick of the fighting. Throughout March 1942 Vampire operated with the small carrier HMS Hermes in the Indian Ocean. On 9 April 1942, however, both ships were sunk by a ferocious Japanese air attack while off the coast of Ceylon. Despite determined resistance, at least 13 bombs hit Vampire and she sank within minutes. During this action, Wrench had been the senior hand of the starboard pompom, which had a stoker's gun crew.

Once again he was mentioned in dispatches, for "he showed coolness and courage throughout the action and kept his gun firing until the crew was finally washed from the platform."
All his men survived.

Rescued and repatriated, Wrench joined the corvette HMAS Armidale, operating out of Darwin. He was fortunate to have left the ship before Armidale was lost to Japanese aircraft off Timor on 1 December 1942. His next seagoing service was in the frigate HMAS Gascoyne, which operated as a survey vessel in support of the US Navy's Seventh Amphibious Force during its advance across New Guinea into the Philippines from 1943 to 1945.
Once more in the heat of the action, Wrench took part in the battle off Guiuan during the Leyte Gulf operations on Christmas Night 1944. The Gascoyne received a signal informing them that the Dutch transport ship MV Sommelsdijk was hit and set on fire by a Japanese aerial torpedo. Steam was ordered to be provided with all despatch. So readily did the engine room respond, that twelve minutes after the signal had been received from the Sommelsdijk, sufficient steam had been raised on one boiler for moderate speed. The anchor was weighed, and in torrential rain Gascoyne started to cover the one and a half miles between herself and the Dutch vessel.
Led by the Engineer Officer as Damage Control Officer, ratings from Gascoyne jumped aboard Sommelsdijk, and after they had secured the two vessels to each other, dashed towards the forward holds. They were clad in asbestos fire-fighting suits and breathing apparatus, and were dragging hoses from their own ship after them.
The double bottoms of the hold were filled with diesel fuel. The port side of the watertight bulkhead between No. 1 and No. 2 holds had become white hot and had conducted the fire into No. 2 hold which was now well alight. Seven men had been killed and 82 other wounded, most of them by covers and beams from No. 1 hatch which had been blown into the air by the explosion of the torpedo and had fallen back on them.
Among the first rescued from the fiercely burning ship were more than 1200 members of the U.S. Naval Construction Battalion who were to work on the aerodrome they had built. They were taken aboard Gascoyne and guided below, but, even so, the upper deck of the small vessel soon became acutely overcrowded. A signal was sent to the American ship Buttonwood, also attached to the hydrographic group, which was standing by under orders, and she came alongside on the starboard side, cleared the upper deck congestion, and landed the troops she had taken off.
Meanwhile, Gascoyne's ratings were pouring thousands of gallons of water into the burning holds, part of which had collapsed and added to the flames. Buttonwood returned and played her hoses on the port side of the Sommelsdijk, which was glowing fiercely, changing alternately from white to cherry red, and buckling badly.
Small craft were summoned alongside to evacuate all but the fire fighters and the seriously wounded. Four American doctors who had come aboard, and the sick berth attendant from Gascoyne, who had been doing a magnificent job, made every effort possible to ease the suffering of the wounded men.
It was not until 0200 on Boxing Day that they were able to get the fires under control and two more hours elapsed before Buttonwood was informed that her services were no longer required.
By 0600 all the fires had been put out but two hoses were kept running to reduce the temperature of the heated metal and cargo and prevent any further outbreak of combustion.
At 0655, Gascoyne slipped from Sommelsdijk and proceeded at full speed to San Pedro Bay to transfer the seriously wounded men to the U.S. Navy Hospital Ship, Refuge.
So ended a night that had been filled with drama, excitement and high courage – a night in which a small Australian warship and her company had played a gallant part. It is unlikely that any member of that company, while he was fighting against such heavy odds, ever thought that he would be rewarded for what he was doing, but not long afterwards, a list of awards showed that the bravery, skills and determination of some of them, at least, had not been forgotten.
Wrench, with two MIDs from his service in Vampire was just he sort of senior sailor any commanding officer would want in his crew. Having directed the efforts to get his ship underway, Wrench spent the entire night of 25/26 December 1944 fighting these serious fires in the Number One and Two Holds of the Sommelsdijk, setting a fine example to the younger members to whom this must have seemed a daunting prospect.

He "supervised the work of all equipment and men and assisted in the inspection of the still smouldering holds when the fires were coming under control", receiving the British Empire Medal for his courage, leadership and devotion to duty.

Wrench was proud to be selected as one of the small number of men representing the RAN at the Victory Parade in London held on 8 June 1946.
After 22 years of distinguished service in the RAN, Alfred Wrench was demobilised on 1 July 1948. He worked until age 65 as a plant operator with Bitumen Oil Refineries (Australia) Ltd, Matraville, Sydney, commuting by bicycle from his house at Kingsford. The archetypical quiet achiever, he centred his life on home and family and had few outside interests. He died on 30 November 1987 at Prince of Wales Hospital, Randwick and was cremated. His wife and their son and daughter survived him.

Sources:
Australian Dictionary of Biography
Royal Australian Navy - Biographies
Naval Historical Society of Australia
Bravo Zulu Vol 1 by Ian Pfenigwerth