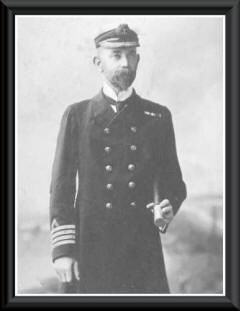 Frederick Tickell, the son of Captain George Tickell, mariner and member of the Royal Naval Reserve, and his wife Charlotte, (née Crabbe). He was born on board his father's ship, a tea frigate named the Coldstream on 7 March 1857 while off the coast of Amoy (now Xiamen) in China. He spent his early years in England and began his school days as a boarder at the Marlborough School. In 1869, the family migrated to Melbourne. They took up residence in Williamstown where Frederick attended Williamstown Grammar school. He then attended Scotch College from July 1870 to December 1875.
Frederick desperately wished to follow in his father's footsteps and go to sea, but it was only after a stint at working in the city that his father relented and finally allowed his son to go to sea - still very much against his wishes. As an apprentice with the Melbourne firm of Grice Sumner and Company, young Frederick Tickell served his time on the company's guano ships sailing between Melbourne and the Maldon Island until he got his Master's Certificate.
Tickell then joined the Jardine Matheson Company of Hong Kong as a Chief Officer on their steamers trading along the coast of China. In 1879, he was wrecked on the coast of China, and was highly commended for safely landing his boat full of passengers after tossing on the sea for 18 hours with a blanket rigged as a sail.
Tickell remained with Jardine Matheson Co. for a few years during which time he had command of a 1,000 ton steamer. He returned to Melbourne and joined the Union Steamship Company. He eventually became the Chief Officer of the Rotongahana - a favourite passenger ship on the run between Australia and New Zealand - one of its novel features being the 'Bridal Cabin'.
He married Mary Elizabeth Figg [1859-1939] on 18 December 1886. In 1888 he became a Sub Lieutenant in the Victorian Naval Brigade. The Naval Brigade was a voluntary, part-time brigade established in 1859 to supplement the small permanent navy. It included many ex-Royal Navy personnel, trained in infantry and artillery drill.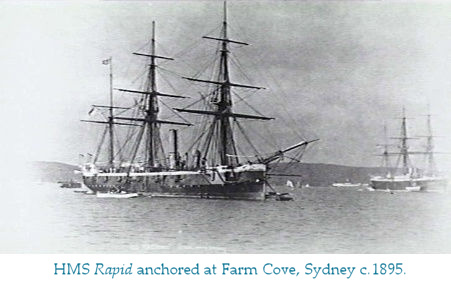 He was promoted to Lieutenant in 1889 and then spent six months, in 1890, attached to the Royal Navy's Australian Squadron, serving aboard the corvette HMS Rapid. In 1893 he was selected for instruction in England, where he gained first-class certificates in gunnery and torpedo, and also completed an ordnance course at Woolwich Arsenal. During his time in England he served as a Lieutenant in the protected cruiser HMS Royal Arthur, the training ship HMS Northampton and the battleship HMS Majestic.
On his return to Australia in 1897 Tickell was promoted to Commander and in November became commandant of the Victorian Naval Forces, a position he held until 1904. In 1900 the Victorian government offered assistance to Britain in putting down the Boxer Rebellion in China. With her navy all but defunct after a decade of neglect, Victoria could provide no warships, merely a naval brigade. Under Tickell's command two hundred men left for Hong Kong aboard the requisitioned liner SS Salamis in August 1900. The contingent was sent initially to occupy the captured forts at Taku and while the Victorians were employed as naval infantry they saw little action.
A number of awards were made to the Australians participating in the military activities in China with Tickell being appointed as a Commander in the Most Distinguished Order of St Michael and St George (CMG) for his services. In addition to these decorations, Tickell and Captain William Creswell were both Mentioned in Dispatches. In December 1900 he was promoted to Captain and after Federation became third in seniority in the Commonwealth Naval Forces (CNF) behind then Captain William Creswell and Captain CJ Clare. In the reorganisation which followed the creation of the CNF, Tickell served as Naval Commandant in Queensland in 1904-07 before resuming his former position as Naval Commandant in Victoria. He was Acting Naval Director while Creswell attended the 1909 Imperial Defence Conference in London.
Together with his fellow officers in the CNF, Tickell was a strong advocate of a local naval force and a supporter of Creswell in his calls for a national Australian Navy. In 1910 Tickell brought the recently completed destroyers Parramatta and Yarra from England to Australia. Like other former colonial naval officers who did not have backgrounds in the Royal Navy, Tickell was transferred to an administrative position when the Royal Australian Navy was formed in 1911.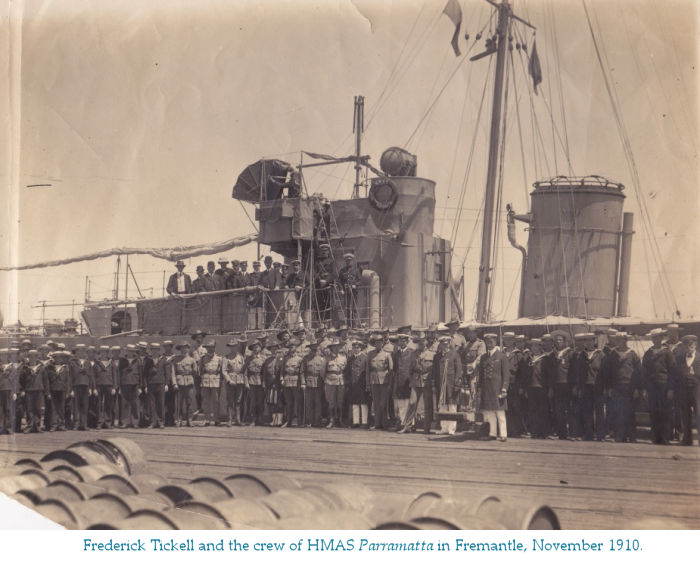 He became Director of Naval Reserves, subsequently renamed the auxiliary forces, a post which he held for the rest of his life. He is credited with the successful mobilisation of the RANR and Naval Brigade to meet the needs of the Fleet and to undertake naval responsibilities within Australia during the war. Significantly, it it was he who organised the naval contingent for service in German New Guinea. He also organised the RAN's first minesweeping service. In 1912 he was appointed an Aide-de-camp to the Governor-General. Tickell was promoted to Commodore in 1916 and then raised to the rank of Rear Admiral in March 1919 in recognition of his war work and length of service.
Rear Admiral Frederick Tickell died of a cerebrovascular disease on 19 September 1919. He was survived by his wife and three daughters. Sadly, Frederick has no descendants bearing the Tickell name. His only son, George, joined the merchant navy like his father, but was tragically lost at sea, aged just 21. He was on board the steamer SS Waratah, a passenger and cargo steamship built in 1908 for the Blue Anchor Line to operate between Europe and Australia. In July 1909, on only her second voyage, the ship disappeared en route from Durban to Cape Town, with 211 passengers and crew aboard. No trace of the ship has ever been found.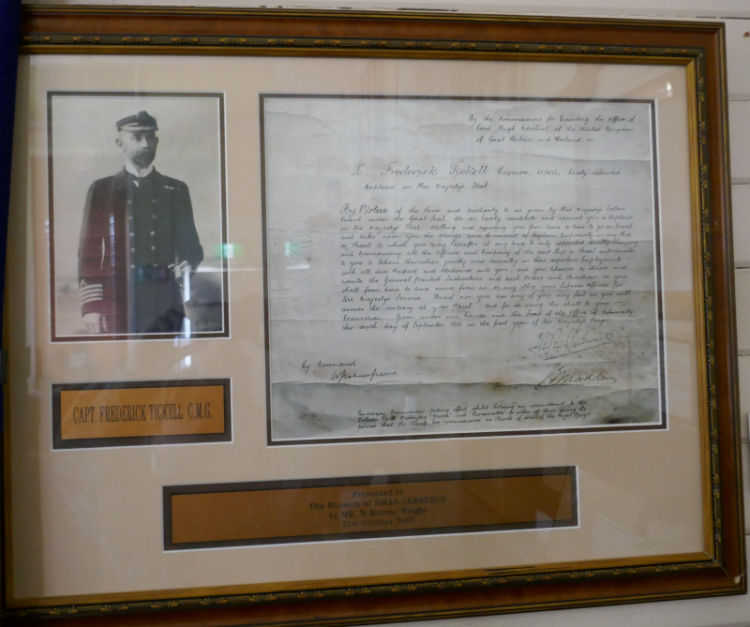 The framed Admiralty Appointment of Fred Tickell's promotion to Captain.
Donated to the Cerberus Museum by his grandson Murray Walker.

_ _ _ _ _ _ _ _ _ _ _ _ _ _ _ _ _ _ _ _ _ _ _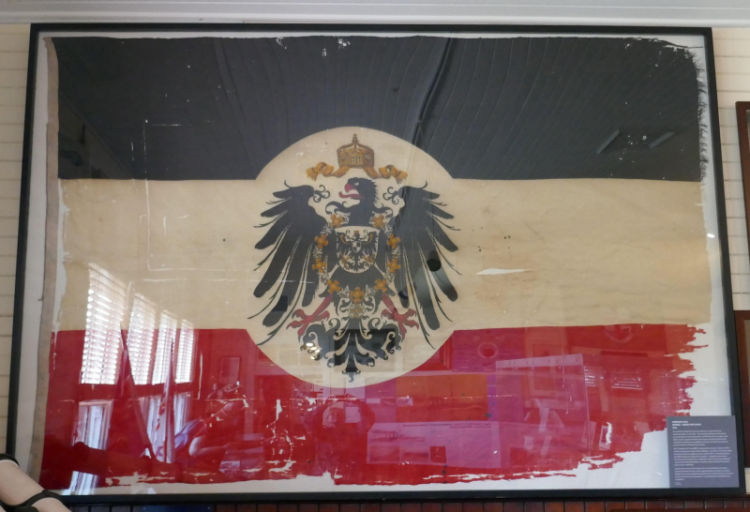 Donated by Murray Walker to the Cerberus Museum, the very rare German Flag that was flown at Bita Paka. His grandfather was acting Chief of the Navy at the time of the action as VADM Creswell was in England in late 1914 for war talks. When the sailors returned to Melbourne the flag was presented to Frederick Tickell.
Sources:

Sea Power Centre - Australia
The Tickell Surname
Sabretache Vol XXXIX - September 1998 - Wendy Rankine
Bravo Zulu Vol I - Ian Pfennigwerth