LEUT Hugh Randall SYME, GC GM and Bar
Birmingham takes a hammering
It was 2:55am when the phone rang in the lodging room on Half Moon Street, London W1. Outside it was bitterly cold; the frost was giving a crisp and deepening coating to the slush of dirty snow in the street. It was barely any warmer in the room where the man reached out his arm from under the bed covers to pick up the handset. He propped himself on one elbow and grunted an acknowledgement into the mouthpiece.
A voice at the other end said, 'Birmingham's taking a hammering and Jerry has dropped parachute mines all over the place, a dozen of which haven't gone off… yet. Get your bag of tools, a car has been organised for you.'
So started the day of 12 December 1940, for Sub-Lieutenant Hugh Syme of the Royal Australian Naval Volunteer Reserve. Other naval officers were receiving similar calls which resulted in a rendezvous of 8 officers and 14 men, spread across seven cars, congregating at the White Hart in St Albans. The plan was to breakfast there and, once everyone had arrived and eaten, move in convoy northwards to Birmingham.
It is doubtful that Syme's churning stomach would have allowed him to eat much. This was the 37 year-old's first job since joining Rendering Mines Safe (RMS), a specialist unit within the Royal Navy.
Hugh Randall Syme GC GM and Bar
Hugh Randall Syme (1903-1965), naval officer, bomb disarmer and newspaper proprietor, was born on 20 February 1903 at Kew, Melbourne, third child of Australian-born parents John Herbert Syme, journalist, and his wife Ethel Maud, née King. David Syme, founder of the Melbourne Age newspaper, was his grandfather. Educated at Scotch College and the University of Melbourne, Hugh rose to become assistant-manager of the family business. At St George's Church of England, Malvern, on 12 May 1931 he married Olive Alyson Clark; they were childless and divorced in 1940.
A keen yachtsman and part-owner of the 82-footer (25 m) Westwind, he volunteered for service in the Royal Australian Navy and was appointed probationary Sub-Lieutenant, Royal Australian Naval Volunteer Reserve, on 1 September 1940. He was mobilised sixteen days later and sent to England for training at HMS King Alfred. With John Mould, H. D. Reid and J. H. H. Kessack, he was one of the first Australians chosen to serve in the Royal Navy's Rendering Mines Safe section which had been established to disarm unexploded (and often booby-trapped) bombs and mines scattered across Britain by German aircraft.
Two years of bombing raids on areas of high density left Britain's civilian population at risk. Over the next 21 months, Hugh Syme, an Old Boy of Scotch College, performed acts of personal heroism which no doubt saved thousands of lives.
Departure from the White Hart
It was after eight o'clock that the convoy of cars set off from the White Hart. They were under orders to travel at high speed and horns were used to warn other traffic of the priority to be given to the speeding saloons. The drivers were professionals, and they needed to be; black frost was an ever present hazard. The cars arrived in Birmingham, but only the one which contained Syme had escaped mishap.
"Take this one. It's in a suburb called Smethwick...."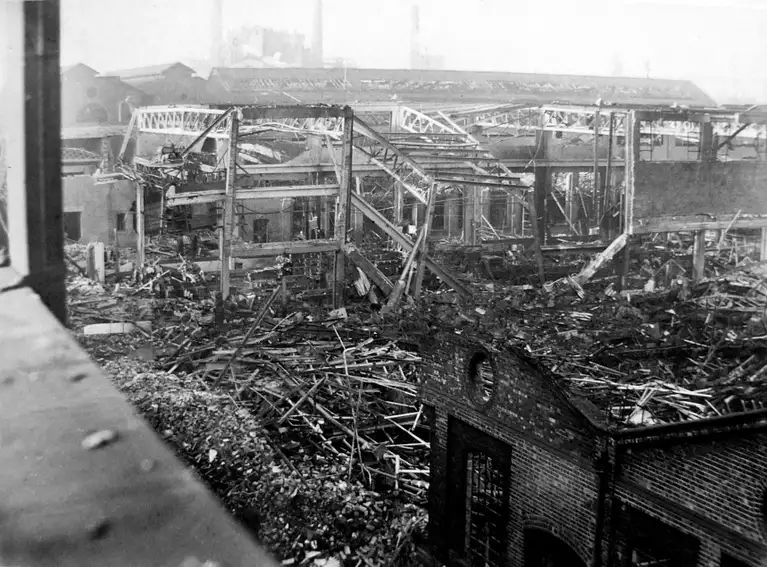 Considerable damage was done to the Avery factory at Smethwick when a parachute mine struck on 11/12th December 1940
the same night that another mine failed to explode outside the Smethwick Council House. Avery Historical Museum
It was a policeman who directed the convoy through the blocked streets to the Council House where the ARP Report and Control Centre was located. The city had just suffered its longest raid of the war, lasting 13 hours.
Lt Miller, Syme's senior, had established himself in a corner and, handing his men hot coffee, briefed them as to their assignments. Miller pointed to a pinned flag on the wall map and said to Syme, ' Take this one. It's in a suburb called Smethwick and it's outside the local Council House.'
Birmingham was a mess. Officially, road and rail access in and out of the city was deemed to be dislocated. What the Royal Navy visitors smelled, was a mixture of brick dust, soot and smoke. What they saw was rubble, hosepipes lying everywhere, iced over pools of water, smoking buildings, dazed people and officials doing their best to inject some organisation into what seemed like chaos.
"if you need me, I'll be at the barricade. Good luck old boy!"
It was an anxious Syme that arrived at the barricade some distance from the Smethwick Council House. The time was 11:30am. Syme, his bag man and his mentor, named Gilbert Stubbs, proceeded beyond the barrier and headed into the deserted area. The mine had wedged itself by penetrating two feet into the paving flagstones which had turned inwards and kept the mine fairly upright.
The two naval officers and one rating made a lonely band. The area had been cleared across a 400 yards radius. Stubbs ordered the rating to leave the bag and return to the barricade. Having assessed the situation, he told his Sub-Lieutenant not to remove the fuse or time clock by hand. Instead he was to attach a line and, using pulleys, run it to the dug-out which was located 35 yards away around the corner.
Stubbs smiled at Syme, 'if you need me, I'll be at the barricade. Good luck old boy!' And with that, he marched off.
Defusing the mine
When Hugh Syme had signed up for the Australian Navy less than 18 months ago he would never have guessed that he would find himself here, alone, in a freezing cold, deserted urban district named Smethwick, a place he had never heard of until an hour ago. Completely alone (or so he thought); alone with a mine that could obliterate him in a second and devastate the buildings he was now looking at. He drew in the cold air through his nostrils and walked directly towards the torpedo-shaped object. It was protruding drunkenly out of the icy pavement with its shroud lines reaching up to the telephone wires above.
For the next two hours, Syme worked steadily and, at times, not so steadily on the mine. If he had been permitted to send a postcard home describing his first day in action it might have read as follows:
'This was my first defusing assignment after my training. I was driven to a barricade near the Council House. It was extremely cold. On my way to the assignment people were calling out "Good luck!" As I got closer to the mine, there was not a soul to be seen. I arranged the tools on the ground and set up a pulley to the telegraph pole and the bomb. My hands were raw with the cold and they stuck to the metal. I attached a cord to the bomb fuse and stretched the cord for 35 yards to a dug-out shelter. I padded the pavement with layers of Hessian where the fuse would fall. The telegraph wires and parachute lines had to be moved. I turned the tap on the bomb fuse and the safety pin popped home. I slowly unscrewed the keeper ring. I tied a knot around the ring. I walked to the dug-out, pulled on the cord and the fuse fell out. I counted to 20. I walked back to the bomb and picked up the fuse. The detonator went into my wallet; my souvenir. Now there was the hydrostatic clock which could have been booby-trapped. I tied a cord around this and repeated the same operation. As I approached the bomb once more, I noticed two young boys playing with the clock. I was totally aghast. They asked me what I was doing. They had been hiding in the bushes for nearly two hours. I shouted at them and they ran away. Then it was all over; the mine was safe. I returned to the barricade and many people ran towards me. I was dragged into a nearby pub.

A very well earned pint

A hat was presented to me brimming with coins and notes. I told them they couldn't give me money and that I was only doing my job, so they gave me beer instead.'
The Parachute Mine (or Aerial Torpedo)
These weapons were capable of destroying a row of houses with a single blast. The civilian population held the parachute mine in contempt because it was obviously indiscriminate, as it was impossible to aim them onto a given target. As with other German bombs, a sizeable proportion failed to explode.
The Germans adapted anti-shipping sea mines in order that they could be dropped by parachute. These were not the familiar spherical mine with spikes sticking out, but were akin to torpedoes. The parachute allowed little, if any, penetration and, together with the impact fuse, guaranteed maximum blast effect. These Luftminen were either 500kg or 1,000kg, designated LMA and LMB respectively. The LMA was 5 feet 8 inches long and the LMB 8 feet 8 inches.
As the parachute mines which the Luftwaffe dropped on British towns and cities were essentially naval weapons, it fell to the Royal Navy to deal with those which failed to explode. A naval unit operating under the name of Rendering Mines Safe, allowed careful examination of their design to be carried out. In this way, development of countermeasures could be pursued in order to frustrate the effect of those dropped in the sea lanes around Britain's coast and in her river estuaries.
Within a week of him dealing with the Smethwick mine Syme was promoted to Lieutenant and posted to the naval base HMS Vernon, where he quickly gained a reputation for courage and initiative.
Hugh Randall Syme was awarded the George Medal in June 1941 for his coolness in dealing with ten mines.
In June 1942 he was awarded a Bar to his G.M. for disarming a mine that had lodged deep in clay in a reservoir embankment at Primrose Hill, London. After tunnelling to the mine, he found that the fuse was on the other side, and had to tunnel around it. He defused it in appallingly cold and wet conditions. He was forced to withdraw the actual fuse by hand, an extremely risky procedure which is usually done from a distance using cords. This was the first time that such a procedure had been employed in the defusing of a mine and the collected information proved very beneficial to other mine clearance officers. His action in disarming the weapon in extraordinarily difficult and dangerous conditions saved the neighbourhood from possible flooding.
Then, on 3 March 1943, Syme was awarded the George Cross for carrying out nineteen mine-recovery operations. He spent 21 months working in bomb disposal all over the country. He dealt with 19 mine recovery or disposal operations, including 5 acoustic, 8 magnetic and 2 acoustic-magnetic mines. The most important had taken place in November 1942 at Weston-super-Mare, Somerset, where he defused a new mine known as a Type T. He endured painful electric shocks while insulating the detonator wires and at one stage hung upside down in a mud hole. Other clearance officers found the information he had gained from the Type T invaluable. The award of his G.C. made Syme the most highly decorated officer in the R.A.N. at that time.
His expertise was such that, despite the scepticism of the scientists who devised it, he defused a new British magnetic mine, much to their chagrin. Some of them refused to speak to him for months.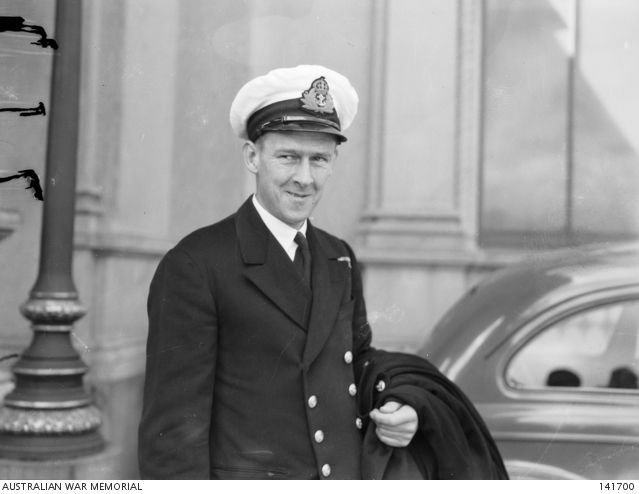 Lieutenant H. R. Syme, GC GM and Bar, RAN, outside Government House
after receiving the George Cross at the investiture.
His citation reads - "The King has been graciously pleased to approve the award of the George Cross to:-Lieutenant Hugh Randall Syme, G.M., R.A.N.V.R.for great gallantry and undaunted devotion to duty."
Defusing German mines was not a job for the faint hearted, and it called for supreme self-confidence and an inquiring mind. In fact, there were never more than a few dozen RMS officers and a suprisingly high proportion were Australian. The British government had decided that rendering mines safe did not fall within the ambit of the criterion 'in the face of the enemy', although when crouched over a German firing mechanism which was designed to blow one to pieces on a dark, cold night in the middle of a destroyed city, it must have seemed so to the practitioners. The outcome was that RMS officers could only qualify for 'civilian' awards, the highest of which was the George Cross - the Victoria Cross equivalent.
Following the deaths of his father and of his uncle Sir Geoffrey Syme, Hugh sailed for Australia in January 1943 and became a trustee of the family company. On 12 March 1943, while on a period of leave back to Australia, he married for a second time, to Joan McCay. They went on to have three daughters, Ione, Eve and Belinda.
He attempted to return to England, but the R.A.N. decided to avail itself of his experience, and in April 1943 he set up a bomb-disposal section at HMAS Cerberus, Westernport. The organisation was never operationally required because the United States Navy's Mobile Explosive Investigation Unit jealously guarded its control over bomb disposal in the Pacific. Seeing no useful role to play, Syme returned to civilian life in December 1944.
In 1946 he was appointed general manager of The Age. Two years later a public company, David Syme & Co. Ltd, was formed. After overseeing the firm's entry into television in 1956, he continued as general manager until 1963 and as a director until his death. He immersed himself in business matters, becoming a director of the Victorian Broadcasting Network Ltd and Anti-Friction Bearings Ltd, President (1959) of the Australian Newspapers Council and Chairman of the Newspaper Proprietors' Association of Melbourne.
In 1953 Syme was awarded the Queen Elizabeth II Coronation Medal which was a non-military medal presented to a list of achievers compiled by the various British Commonwealth Governments as a personal souvenir.
Additionally, Syme was offered a knighthood by the Queen but modestly declined the honour feeling that he deserved it no more than those he had served with.
A member of the Athenaeum and Yorick clubs, Syme enjoyed motor racing, fishing and shooting. He was also a keen gardener who cultivated rare specimens of orchids. Survived by his wife and their three daughters, he died of a cerebral tumour on 7 November 1965 at Epworth Hospital, Richmond.
The Canbera Times, Thursday November 11, 1965

500 at Heroes Funeral

MELBOURNE, Wednesday. — The funeral of Mr Hugh Randall Syme, GC, GM and Bar, one of the most highly decorated Australian Naval officers of World War II, was held today.

Mr Syme, aged 62, died on Sunday after a long illness.

Mr Syme was accorded full Naval honours. His coffin was draped with the Blue Ensign and a Naval guard of honour attended.

Mr Syme was a director and former general manager of David Syme and Co Ltd, publishers of The Age.

He was also a former president of the Australian Newspaper Council and the Newspaper Proprietors Association of Melbourne.

The funeral service, at All Saints Church of Engand, Kooyong, was attended by almost 500 people, including representatives of newspapers in almost every State, the Commonwealth Government and the armed services.

The late Mr Syme was a member of the rendering mines safe section of the Royal Australian Navy, which "de-loused" unexploded mines and bombs.

The vicar of All Saints, the Rev G. S. Hall, said at the service that Mr Syme was a man of great courage and cool determination. It was fitting that he should be decorated as he was. He was a great man who had served his country in an hour of need.

Later, at Springvale Crematorium, a 12-man Naval firing party, and the band of HMAS Cerberus escorted the cortege to the chapel.

They were followed at the slow march by an official Navy escort of 50 men.

Following a brief service by Mr Hall, three volleys were fired in salute and a bugler sounded the Last Post.


His medal group including GC, GM and Bar, Defence Medal 1939-45, War Medal 1939-45, Australia Service Medal and
1953 QEII Coronation Medal are held and displayed at the Australian War Memorial, Canberra.
Sources:

Australian Dictionary of Biography
Scotch College, Melbourne
British Modern Military History Society
Victoria Cross Online
Trove
Traces of War
Bravo Zulu Vol I by Ian Pfenninwerth