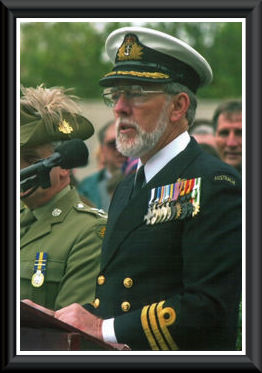 Ian Maxwell (Max) Speedy was born in Levin, New Zealand, in 1944. The family came to Australia in 1950 and Max saw all his schooling in and around Brisbane. With average high school results, he was one of seven in the country to be selected for Observer training in 1961.
On 29th January, 1962, he arrived at HMAS CERBERUS to begin No1 Basic Aircrew Training Course to eventually fly the new Westland Wessex 31A anti-submarine helicopter. As a Midshipman, he had all the privileges of the Navy's oldest and finest Wardroom: silver table service and all the trimmings as well as having long and tough hours that every recruit undergoes – running, jumping, swimming, marching, and much school work. But nothing about flying even though the Course Officer was an Observer himself – eventually to good cause in postings later on.
After nine months, the first Observer training took place in Malta at the RN Naval Air Station, Observer School. Here was practiced the art of courses to fly, for how long and how fast to intercept this or that, or to carry out a search in the middle of the Mediterranean (it's bigger than you think) and then to plot an accurate course for home. There was more serious work; big hand-held cameras were carried to photograph every Russian trawler (fishing for SIGINT) that they came across – those were the days of very serious antagonism between the West and East. The Cuban Missile Crisis was happening at the time!
All but one of the Australian Midshipmen graduated and then it was back home for a spot of leave and on 1st February, he arrived at HMAS ALBATROSS, posted to 725 Squadron for the serious issue of coming to grips with a very modern (as it then was) dunking sonar. It was new and exciting. Many months were spent at HMAS WATSON and its anti-submarine sonar training school. The Russians, Chinese and their clients, and in Australia's case the Indonesian Navy, all had significant submarine fleets and not much if any warning time was expected should hostilities break out.
Graduating as a fully qualified observer and promoted to Acting Sub Lieutenant, he joined 817 Squadron which was commissioned on 18th July, 1963. The squadron embarked HMAS MELBOURNE for its Far East and SEATO duties in Singapore for his first front line operational cruise.
The year 1964 opened quietly enough. Some leave had been had and the squadrons were conducting their work-up programmes. On the night of 10th February, 817 SQN personnel were having a grand BBQ prior to embarkation the next day when the hostess, Mrs Phil Rodgers, eventually had everyone's attention to tell everyone to get back to the base. Not believing, they were roused into sobriety when on climbing the last hill to the base to see every light on every runway, building and hangar shining brightly. HMAS VOYAGER has collided with MELBOURNE. From that time until two days later, everyone went into overdrive searching in the hope of finding survivors, scouring the seas and coasts for miles and miles. Only one person that night was winched into a helicopter, most were too terrified of the noise, the rotor downwash and aircraft searchlights!
He embarked MELBOURNE with 817 SQN later in 1964. In 1965 with David Cronin and Guy Cooper he was posted to No5 Fixed Wing All Weather Night Fighter OFS in preparation to becoming Sea Venom night fighter qualified. The OFS was begun in a converted Dakota and the target aircraft was a Gannet. Max and Dave Cronin passed their OFS in September 1965. Max was teamed up with Barrie Daly and Dave Cronin with Clive Blennerhassett.
The Sea Venom was the RAN's answer to fleet protection from the air and four aircraft were usually embarked on MELBOURNE as 816 SQN "B" Flight. The AWF Observer's role was to use the radar to find, lock-on to an approaching aircraft from any angle, and then to carry out an intercept path that brought the pilot up to about 150m astern, then the order "(Navigation) Lights out – Evade!" was given and from that point the chased aircraft tried to break radar lock and the chasing Observer of course not to allow that. It was not easy work and being unable to anticipate what the next move might be, one was always behind the game. Aerobatics at night are not easy when done on a radar blip!
When it was time to deck land, again with head down, the Observer called out the airspeed and power settings while the pilot concentrated on the "Meat Ball". You knew you had arrived when the arrestor wires brought you up with a mighty jolt. We missed one day, bounced very hard, just managed to get over the deck edge and see the anchor flash past while FlyCo said "Don't do that again"!
Max carried out the early months of 1966 on the cruise north to SEATO with 816 B Flight. As Max said, if he was to be killed, then he would prefer to do it himself. Some year or so earlier he and others on that 1962 Observer course had all applied to become pilots. In September, 1965, subject to signing on for a further four years, Max was accepted for pilot training.
In July, 1966, he and David Collingridge went to the Royal Victorian Aero Club for 25 hours flying training in anticipation of the full course with the RAAF at POINT COOK on No 63 Basic Flying Training Course. The Navy was to get the A4 Sky Hawk fighter and everyone was keen to fly it. The course began in January 1967 with another 40 or so hopefuls from the RAAF and Army flying Winjeels and later Vampires at RAAF PEARCE, WA.
From here through to the end of the course at PEARCE, Max and David were neck and neck at the top. Max was awarded the Dux and Highest Aggregate Score while David was Best Pilot at POINT COOK only to have the positions reversed at PEARCE. David was Dux and Max Best Pilot. As one might expect, though he did not, Max was posted to 723 Squadron for a helicopter conversion while David went to 724 SQN for the A4 Sky Hawk.
No 11 Helicopter Conversion Course in the Iroquois UH1-C began in February 1968 at 723 SQN and he was posted to 725 SQN for his Wessex 31A conversion in May sitting in the front seat this time. He was well into his Wessex conversion when on 5th June, LEUT Peter Ward with two aircrewmen on board crashed in Iroquois 896 and all were killed out at Beecroft Range. Blissfully unaware that he was to be Ward's Helicopter Flight Vietnam replacement (RANHFV), he was first told by a colleague what everyone else seemed to know and later that day had confirmed by CMDR (AIR) Ron McKenzie.
Back to 723 SQN and joining the 2nd Contingent of the RANHFV as its 2IC under LCDR Graham R (Zork) Rohrsheim, flying took on a great intensity though with little real knowledge of what was in store as all on the 1st Contingent HFV were still in the thick of their year with the US Army's 135th Assault Helicopter Company (the 135th AHC Experimental Military Unit – EMUs). A trip to the Army's Battle Efficiency Course at Canungra for three weeks of Army-style soldier training in ambushes, river crossings, forced marches and such other bodily abuses as could be inflicted, a bit more flying at Nowra, and the work-up was completed by late August, 1968.
The 2nd Contingent RANHFV left 723SQN for a week's leave and then left Australia on 9th September, 1968, arriving at Camp Blackhorse, some miles north of the Australian Army base in Phuoc Thuy Province on 11th September. On 12th Max got his Flak vest, chicken plate (chest body armour) and helmet from one of the Australians leaving that day for home, had a check ride in the UH-1H, fired his personal S&W .38 Police Special, and on the 13th September flew the first of 1,250 combat hours into countless enemy held landing zones during his year with the 135th AHC.
After his 200 or so hours as a co-pilot, Max became the 1st Lift Platoon Leader (troop carrying UH1-H Slicks) with the main task of getting the flight of ten troop carrying aircraft in and out of the pick up and landing zones as safely and as expediently as possible. Later, as the Operations Officer, he flew as Air Mission Commander in the command and control aircraft directing the operations with the Back Seat battalion commander whose troops were in the Slicks. He still flew regularly as Slick Leader.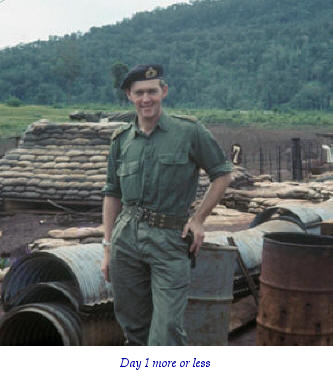 Given that any landing zone could and frequently did go hot without warning, being Air Mission Commander or Slick Leader was a heavy responsibility. Usually it was just the Company's aircraft but occasionally the 135th AHC joined up with other AHCs and a 20 aircraft assault was not uncommon. Once, he was part of an 80 aircraft assault, most of the 222nd Combat Aviation Battalion's aircraft. This was more an experiment than an assault; those were the days of helicopters becoming the only way soldiers would be delivered into battle. From walking, then trucks, now the helicopter.
It was in Vietnam that the "Golden Hour" for a wounded soldier to be flown to a casualty station became the rule. The 135th, as with all the other AHCs, carried out its own troop resupplies, medevacs, reenforcements, and most crucially picking up their own pilots shot down. But not until the troops called the day over did the EMUs go back to base. A short day was 4 – 5 hours, a busy day was 8 – 10 hours and the most active engagements anything up to 14 hours flying. Given that the day started with pre-flight inspections at 0430, then breakfast and briefings, take off at 0600, it made for very long and arduous flying.
Like most of the aircrew, Max was awarded numerous times: the US Army Air Medal (12 times on the basis of 25 hours in combat for each one), two Vietnamese Crosses of Gallantry (one Bronze Star, the other Silver Star), and on 4th July, 1969, his US Army Honorary Aviator's Wings! Later his Distinguished Service Cross was presented by HM, The Queen, Elizabeth II, in Buckingham Palace.
His citation for the DSC reads in part:
Lieutenant Speedy became the Commander of the First Lift Platoon, and he has flown almost daily on combat assault missions, logging over one thousand hours in eight months. On numerous occasions he has been called upon to lead the flight of ten lightly armed helicopters into Landing Zones actively defended by the enemy, and on nine occasions his aircraft has been hit by ground fire, causing light to heavy damage.
On 23rd December, 1968, he was the leader of a flight of ten aircraft operating with the Republic of Vietnam Forces, South of Ben Tré. The Flight landed soldiers in a suspected enemy position and, as the aircraft lifted off the Landing Zone, heavy automatic weapons fire was received. His aircraft received hits in the fuselage but he was able to keep it flying and returned to lift reinforcements to the Landing Zone. As the Flight began to leave the Landing Zone, a call for the medevac of two seriously wounded soldiers was received from the Ground Force. He immediately, without consideration for his own safety, went to evacuate the wounded. Remaining calm, and maintaining the highest standard of professional flying under heavy enemy fire, Lieutenant Speedy was successful in completing this mission.

Lieutenant Speedy, DSC, RAN in the company of his grandmother and wife
on the occasion of his investiture at Buckingham Palace in October 1970.
The citations for, first the Silver (19 July 1969), and then the much more succinct Bronze (31 July, 1969) Vietnamese Crosses of Gallantry are:
"A courageous officer, who has much combat experience and command ability. During a search and destroy operation on 26th July 1969, seven kilometres north east of the Province of Ben Tré, Tien Giang tactical zone, Lieutenant Speedy voluntarily landed his helicopter many times in battle zones to evacuate wounded troops. His courageous acts strengthened the morale of troops at the frontline".

"For bravery he showed in the face of enemy fire".
There were four contingents of the RANHFV: each could claim its year in Vietnam was the most hectic. Right or wrong, the whole of the RANHFV, all 196 of its Fleet Air Arm personnel, served with extraordinary gallantry and in an experiment that our Navy expected to be not much more than that. As the Unit Citation for Gallantry awarded in August 2018, states in part:
The extraordinary gallantry, dedication to duty and astonishing record of the Royal Australian Navy Helicopter Flight Vietnam conducting tasks far removed from the expectations of Naval service, has forever set it apart from other units. The extraordinary acts of gallantry and heroism consistently displayed by the personnel, combined with their loyal devotion to duty were in keeping with the finest traditions of the Royal Australian Navy and the Australian Defence Force.
Only six UCGs exist in Australia; four to Army, one to HMAS YARRA II (1942) and the other to the RANHFV. It is a unique honour.
While all who went to Vietnam saw it as the culmination of their most professional time, return to Australia was a serious let-down. As well as most of the civilian population, many in the Navy saw Vietnam as a distraction from the Navy's proper role. There was widespread antagonism and war service was best forgotten as quickly as possible. Some left the Navy, others hid their wounds. Max although going to the UK for a helicopter instructor's course and exchange with the RN at its pilot training base, HMS CULDROSE in Cornwall, still felt the brunt, this time from the British.
The two years with the RN's 705 SQN were still most rewarding and coming home in early 1972, he came back to Nowra as an A1 Helicopter Instructor and to 725 SQN flying the Wessex 31B, an upgraded model with more power and a better sonar dangling off 500 feet of cable. It needed every bit of the extra power but it was fun flying. He was posted in command of 723 SQN on 31st October, 1972, still a Lieutenant and by some counts, the youngest to be so.
In April, 1973, the Squadron embarked HMAS SYDNEY with three aircraft and an Army Battalion to take part in Exercise COLD KOALA at the NZ Army Training Base, Waiouru, North Island, NZ. Cold it was but the squadron personnel had a very rewarding time over the 18 days they were away.
One day in 1973 a very large item arrived at the maintenance stores office. It turned out to be the Battle Honours for "Vietnam 1965 – 1972" with 723 SQN nominated, of which the RANHFV was a part but not recognising the RANHFV itself. No pomp, no ceremony, no official acknowledgement! Max said he really didn't know what to do with it and no one else from the Navy Staff down to Commander Air seemed to care. The situation was finally resolved in August, 2018, with the award of the Unit Citation for Gallantry taking place in the Australian War Memorial with those still standing in proud attendance receiving their Citations presented by His Excellency, The Governor General, Sir Peter Cosgrove AK, CVO, AM, and VADM Tim Barrett, AO, CSC, RAN.

Former members of the RANHFV on the occasion of the award of a Unit Citation for Gallantry, 18 August 2018.
In late-1973 Max was posted to carry out his Bridge Watchkeeping Certificate. HMAS PARRAMATTA (CAPT DH Thomson RAN) went north, west-about, for a six month deployment ranging from Singapore, Thailand, Bangkok, Indonesia, Hong Kong and Surabaya, Indonesia. All most interesting places while learning the noble art of all things nautical. With another few months in and around Sydney's waters, he gained his certificate.
In late-1974, LEUT Speedy was posted to Fleet HQ to write a directory of facilities in ports that the RAN's ships could possibly enter. This job was mid-course when he was appointed Equerry to HRH Prince Charles whilst he was on his Australian tour in October and November, 1974.
Prince Charles' world tour of which Australia was a small part kicked off in Canberra on 12th October, 1974, and ended some six weeks later. Equerries once held the reins of their sovereigns: this didn't apply to Prince Charles. He was able to maintain a fantastic pace, seemed to enjoy himself and was most liked and likeable. Opening NSW Parliament, the Siding Spring Observatory, a hospital and a Royal Gala Concert in Brisbane, opera in the Opera House, the Royal Yacht Club in Hobart, riding horses in central Queensland and NSW, playing polo and surfing at Coolangatta, everything was a blur. It had to end of course but it was good while it lasted.
Back to 817 SQN for the remainder of the year, what might have been a quiet Christmas 1974, was shattered with the call to ALBATROSS that evening to begin the task of bringing as many aircraft out of suspended maintenance as possible to fly to Sydney and embark MELBOURNE. Squadron personnel of all ranks did a phenomenal job, readied seven Wessex, and then climbed on buses that took them to Sydney. MELBOURNE sailed on 27th with most of her crew. 817 SQN had practically full complement and the ship arrived in Darwin on New Year's Day 1975 to assist in the recovery from the devastation caused by Cyclone Tracy.
After six weeks in Darwin, MELBOURNE left to replenish in Sydney and then headed off to Hawaii for EX RIMAC 75 returning to Nowra eventually in April, 1975. He flew with 817 SQN as its CO from May while the new Sea King helicopter was being introduced into service. On 9th December, 1975, he closed the books on the old 817 SQN and its Wessex 31Bs. That day was to be his last flight as a Fleet Air Arm pilot.
LCDR Speedy was posted to the Australian (Army) Staff College in 1976, for a tortuous year of bureaucratese. There were many activities, including Israeli GEN Moshe Dayan and other interesting speakers. Two round-Australia trips in RAAF Hercules visiting the Pilbara through to Mary Kathleen Uranium Mine and places in-between gave a good sense of this country's vastness and the difficulties protecting it.
One does not go to Staff College and then escape Canberra: Max was posted as Staff Officer to Director General Naval Manpower and Planning, CDRE BH Loxton, RAN, for two years from 1977 to end 1978. In this period, he became a Peter Mitchell Prize awardee with an essay on how the Navy might go about creating a nuclear powered submarine force.
In 1979, his bridge watchkeeping was finally to be put to the test. LCDR Speedy was posted as the XO HMAS VAMPIRE under CAPT Alan Lee Beaumont RAN, an officer who went on to be Chief of the Defence Force. While the ship is a museum attraction in Darling Harbour now, she was the best of her kind and that year's cruise stands out. Keeping a standing Morning Watch and normal duties during the day was an ideal arrangement and most rewarding professionally.
Having sought and being approved as the RAN's first Defence Force Fellow, Speedy went to the School of Strategic and Defence Studies Centre at the Australian National University in 1980. He was to undertake what was eventually published Australia's Oil and Security, the future fuel requirements of the ADF. It was a study of strategic issues associated with maintaining fuel supplies in a time of military crisis.
In 1981, he was posted as the Deputy Director Naval Plans under Captain Beaumont – another very rewarding year with tutelage from that fine officer. Promotion to Commander came at this time but with it the question of what now? While the time in many rewarding positions was appreciated and possibly making openings for better things, Max's family were feeling his absences. The choice of greater family stability without the long times at sea and away came first and so, with some regrets he resigned in April, 1982.
Max became a Town Planning and Community Manager in the Shire of Morwell, Gippsland. He became the Shire President of South Gippsland Shire in 1999, took on a number of board positions and was instrumental in the amalgamation of the Victorian Regional Ambulance organisation.
By an odd twist, some knowledge of the hospital and critical care industry was very useful when a position in the RAN Reserve came up to carry out an examination of the CERBERUS Hospital in 2005. He was selected to do what at the time seemed to be a 3 – 4 month study. Soon his expertise was being called for in the other departments at CERBERUS and then full time, back in the rig of the day in Navy Office, Canberra, under (then) CDRE Nigel Coates RAN. From there it was a quick step to OIC, Navy Establishments Validation Team. In this role he gained another five years of insights to a much more modern Navy than the one left some 25 years ago. Computers had taken over and Midshipmen back then were Admirals now.
The first 20 or so Navy and Fleet Air Arm years were certainly CMDR Speedy's formative ones but the last ones were just as interesting. As a green Midshipman, he had joined a gentlemanly Navy in 1962. When CMDR Speedy left the RAN in 2010 for the last time, it was vastly more professional, infinitely more assured of itself, and finding excellence in its men and women as equals ashore and afloat.

Commander Max Speedy, DSC, RAN (Ret'd) presents Recruit Gap Year Jenna Daley
with the 'Leadership Potential' award during her graduation ceremony from
General Entry 368 Shipp Division held at Recruit School of HMAS Cerberus, Victoria
Since 2013, CMDR Speedy has been a regular presenter to the SHIPP Division Recruits at CERBERUS. He knew Leading Aircrewman Noel Shipp in Vietnam: the pair had flown together. Shipp was killed in action on 31st August, 1969. Max talks to the Recruits about those event filled days and how Shipp displayed all the qualities of Service, Courage, Respect, Integrity, and Excellence.
He and Judy farm their 170 acre property in South Gippsland. He grows grapes, makes his own wines, and for recreation instructs youngsters to fly gliders – a full turn of the screw as he began flying gliders at Nowra in 1963.