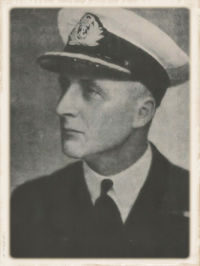 Alvord Sydney Rosenthal was born on 16 January 1901 at Lewisham, Sydney, second of three sons of Australian-born parents (Sir) Charles Rosenthal, architect and soldier, and his wife Harriet Ellen, née Burston. Alvord was educated at The King's School, Parramatta. In 1915 he entered the RAN College, at Jervis Bay, from which he graduated in 1918.

The 1915 Entry consisted of 31 cadets, several of whom were to distinguish themselves later, including Vice Admiral Sir Roy Dowling, and Commander Jefferson Walker (lost in Parramatta).

Commander Donald Clarke, also of the 1915 Entry, recently wrote: 'I recall Rosenthal as a dominating personality in our group of cadets, he was popular, energetic and powerfully built'. The First Entry had been in 1913, which had meant that Rosenthal's elder brother had had to join the Royal Navy, rather than the Royal Australian Navy, in 1912. Around this pre-1914 period, several Australian brothers were split between the two navies, as the RAN was not inaugurated until 1911.

When Rosenthal joined the College in 1915, his father was serving at Gallipoli, and his elder brother was at sea with the RN as a midshipman.

Promoted Midshipman on 1 January 1919, he sailed for England in the transport ship HMAT Marathon to gain seagoing training with the Royal Navy. Those cadets who had joined in 1913 and 1914 had been appointed to battleships of the Grand Fleet. Those of Rosenthal's year missed the War, but were able to gain valuable experience in its aftermath. After six weeks at Whale Island Gunnery School in Portsmouth, the midshipmen were drafted to the Fleet. Rosenthal's first ship was the battleship HMS Ramillies, one of the five ships of the Royal Sovereign Class, completed in 1917.

When he joined Ramillies on 7th May 1919, the ship formed part of the guard on the German Fleet at Scapa Flow. He had missed the actual surrender of the German High Seas Fleet in November 1918, but both his father and his brother had witnessed the historic ceremony from the Australian cruiser HMAS Melbourne.

The scuttling of the German Fleet at Scapa Flow was the highlight of Rosenthal's service in Ramillies, and made a profound impression on the young midshipman. A number of men from the scuttled ships were picked up by Ramillies and taken to Invergordon. The body of one captain who had been killed by his own crew was also taken onboard.

On 21st June 1919, the First Battle Squadron was at sea in the Pentland Firth for torpedo exercises. At 1220 the Flagship received a signal from the destroyer HMS Wescott in Scapa Flow that the German battleship Frederick Der Grosse was sinking at her moorings. HM Ships Revenge, Ramillies and Royal Sovereign arrived in time to see Seydlitz capsize and sink. It was a dismal end to a fleet that had fought so well.

Rosenthal completed his training in Britain and was promoted Lieutenant in October 1923. Back in Australia, he served in the destroyer HMAS Anzac, and as assistant surveyor in HMAS Geranium.

On 17 December 1925 at Holy Trinity Church, Balaclava, Melbourne, Rosenthal married Audrey Fleming (d.1958).

His next ship was the destroyer HMS Tempest, in November 1927, at the start of his exchange service with the Royal Navy. In January 1928 he was appointed to the battleship HMS Marlborough, in which he served until September 1929. On his return to Australia he served at Navy Office Melbourne, as a Lieutenant Commander, having been promoted after the usual eight years as a Lieutenant.

In January 1932, Rosenthal joined the flagship, the cruiser HMAS Australia, and in October 1933 he was given his first command, the destroyer HMAS Waterhen, which he brought out from England with the other ships which later became, under Captain Waller, the famous 'Scrap Iron Flotilla'. Rosenthal was now one of the select band of 'salt horse' destroyer captains, who were to build up between them considerable service in command of destroyers.

After twelve months in Waterhen, he was appointed to command HMAS Vendetta. Although his superiors had reservations about his ability, he proved an outstanding seaman when he took HMAS Voyager to sea in a gale on 18 June 1935 to search for a missing ship. On 21 November 1935 Rosenthal joined the cruiser HMAS Canberra. His performance in that ship earned him promotion to Commander in January 1937, but his record in Waterhen and Vendetta counted against him: on 31 January 1937 he was transferred to the auxiliary list and appointed District Naval Officer - South Australia.

The transfer to the Auxiliary List was undoubtedly a great disappointment to him, for it normally meant the end of an officer's seagoing career; it is extremely likely, however, that Commander Rosenthal had other ideas, and expected that Hitler would have his war in a year or two. The following year, in fact, Rosenthal was recalled for the Munich mobilisation and appointed Commander (D) in the Flotilla Leader HMAS Stuart. This appointment only lasted for a couple of months, and by the end of November he was back at his old job.

War was by now inevitable, and when it came it did not take Rosenthal long to suggest that the Naval Board had erred in 'sidelining' him to the Auxiliary Service. He was to prove that he was one of the fighting type of officers which thrived under the arduous conditions of war.

Following the outbreak of World War II Rosenthal was placed in command of the armed merchant cruiser HMAS Westralia, which commissioned on 17th January 1940. He settled in enthusiastically to his new command, and Westralia soon became a very efficient unit; Rosenthal was a popular captain, and respected by all the officers and ship's company, the great majority of whom were Naval Reservists, and inexperienced in the workings of a ship-of-war.

After operating in Australian waters until June, Westralia sailed from Fremantle to Colombo for service under the Commander-in- Chief, East Indies. In December the ship was ordered to return to Australia, as an additional ship was required to cover the convoys there, because of the presence of German surface-raiders in the Pacific.

Although sorry to leave Westralia in April 1941, Rosenthal got what he really wanted, the command of a new destroyer.


He was appointed CO of HMAS Norman, under construction at Southampton, but after a few weeks was suddenly ordered to take command of her sister ship HMAS Nestor, already in commission at Scapa Flow. Nestor had had several setbacks in her working-up periods since commissioning, but with the arrival of Rosenthal went right ahead and was destined to become a very successful and famous ship during her short life of eighteen months.

His First Lieutenant was Lieutenant George Crowley RN, later to become a Rear Admiral, who was an exceptionally talented, cheerful and hardworking officer. He gave Rosenthal tremendous support, as did all the officers, for Rosy had the great gift of welding all his subordinates into an efficient working team. The ship's Engineering Officer felt that he was indeed fortunate to have as his Captain a man with a mechanical bent who took such a great personal interest in the wellbeing of the engineering plant, and gave such wonderful support when it came to getting mechanical repairs expedited by the various dockyards and repair-ships, which was very difficult in many of the outlying bases.

Rosenthal's first task, on 22nd May, was to escort the battleship HMS King George V, the aircraft-carrier HMS Victorious and four cruisers on the beginning of the long chase to sink the Bismarck; there were six other destroyers in the escort – two days later the destroyers with oil tanks low were detached to refuel at Iceland, and thus Nestor missed Bismarck's final destruction.

By July 1941 the supply situation at Malta had again become desperate and Operation 'Substance' was mounted, to run a convoy of one personnel ship and six transports to the island from the west. The operation was under the command of Admiral Somerville, with Force H, reinforced by HMS Nelson, cruisers and destroyers, including Nestor. At the same time it was intended to run to the west seven ships from Malta which were immobilised in the face of enemy airpower.

Nestor embarked 56 troops at Gibraltar, and left with the covering group on 21st July 1941 in thick fog. For the first two days, Nestor was in the screen to Force H. On the next day off the African coast, Nestor's Anti- Submarine Officer detected hydrophone effects, and sighted torpedo tracks crossing from starboard to port. Sub Lieutenant Colclough immediately ordered 'hard astarboard' and an alarm report was made to HMS Renown.

Two torpedoes passed under Nestor, who hunted the submarine for an hour. The Admiral later reported that the successful avoiding action taken by his heavy ship 'was only rendered possible by the prompt action taken and quick and accurate report made by Nestor'.

At 2.30 on the 24th July the convoy was attacked eight miles north of Pantellaria by Italian motor torpedo-boats. At 2.55 Rosenthal saw one ship of the convoy dropping astern, and on investigation he found the Blue Star ship Sydney Star steaming slowly on the opposite course to the convoy. Nestor closed her and learnt that she had been torpedoed and that she was lowering her lifeboats, as her Master believed that she was sinking. The two ships were now only four miles from Pantellaria, and Rosenthal decided to embark the troops onboard; this proved to be a most difficult operation, but it was greatly assisted by the initiative of two seamen who jumped down into one of the transport's lifeboats and got it clear when 'delay was not acceptable'.

While alongside, Rosenthal impressed on the Master to keep his ship afloat and under way. Although three torpedo-boats approached, Nestor was able to embark 460 troops and 20 of Sydney Star's complement and at 4.10 Nestor cast off. To Rosenthal's great satisfaction, the transport was able to follow at 12 knots. The cruiser HMS Hermione later joined them and the three ships successfully beat off a dive-bomber and high-level bombing attack. They reached Malta safely at 2 p.m. It was a great day for the beleaguered fortress – not a ship had been lost from the convoy.

Admiral Somerville reported:

'The safe arrival of Sydney Star reflects great credit on the Commanding Officer of Nestor, Commander A.S. Rosenthal RAN', who showed judgement, initiative and good seamanship in handling a delicate situation so close to the enemy's coast and in the presence of enemy E-boats. It was fitting that the CO and most of his crew should be Australians'.
That afternoon the west-bound convoys sailed from Malta, followed by the cruisers and destroyers, including Nestor. All ships arrived safely at Gibraltar. Both Rosenthal and Nestor made their names in the Sydney Star affair, and Rosenthal was awarded the DSO.

After further service with Somerville's Force H, and attacking more submarines, but without success, Nestor made rendezvous with a troop convoy west of the Azores. The convoy escort was under the command of the Captain of the battleship Repulse, and arrangements had been made to refuel at sea from an oiler; however, Repulse fuelled first, and when she returned Rosenthal received a signal in effect: 'Sorry, Nestor, but I have emptied the oiler'. As Nestor was very short of fuel, she was forced to slip into Bathurst, Gambia, with only 15 tons left, which had only been achieved by the most stringent steaming economies.

After leaving Bathurst, a depth-charge attack was carried out in shallow water, and one charge exploded prematurely, damaging Nestor's turbine feet, and she returned to Devonport for repairs, on completion of which she sailed for Gibraltar.

On 15th December 1941, in company with three destroyers off Cape St. Vincent, a submarine was sighted on the surface.

Rosenthal immediately turned towards the submarine, increased speed and opened fire at a range of 11,000 yards The submarine submerged, and shortly afterwards Nestor obtained contact and attacked with depth charges. Subsequently a heavy underwater explosion was heard and oil, wreckage and human remains appeared on the surface. The sinking of U-127 was confirmed and credited to Nestor. This was the only German U-Boat destroyed by the RAN, and the second submarine sunk, the first being by HMAS Stuart. For the destruction of U-127, Rosenthal received a bar to his DSO. Nestor joined the Mediterranean Fleet, and took part in the bombardment of Bardia, with Napier and Nizam. In January 1942 the destroyers sailed from Alexandria to join the Eastern Fleet.

At 1806 on the 15th June Nestor was straddled during a high-level attack; the gigantic forces generated by the three bombs exploding almost simultaneously lifted Nestor bodily out of the water, and she crashed violently as she fell back. The area between the bridge and the funnel flexed violently, and Commander Rosenthal and all personnel in the vicinity were thrown to the deck. Nestor suffered damage to her two Boiler Rooms, both compartments flooding immediately, and causing complete failure of all power.

The damage and resulting flooding caused Nestor to settle by the bow and gave her a list to port. The greatest danger was the fire which had broken out in the uptakes from No. 1 Boiler-Room; as the normal hand fire-extinguishing equipment had proved ineffective. A fresh hazard developed when fire broke out in the uptake of the boilers in No. 1 Boiler Room, the oil bursting into flames as it floated on the water. With no power on the pumps, the ship's company fought the fire for three hours with Pyrene extinguishers and a chain of buckets. These efforts prevented the fire from spreading, but the localised outbreak grew more intense, and the tell-tale reflection from the funnel was an inviting beacon for enemy aircraft. Coming down from the bridge, Commander Rosenthal looked at the fire through the inspection hole in the funnel and decided that the only prospect of stifling the outbreak was to attempt to suffocate it with hammocks saturated with water. Accordingly, water was poured on to hundreds of hammocks, blankets, etc., and these were dropped in the flames through the inspection holes. More water was poured onto this material and a couple of ratings volunteered to enter the funnel and trample down the bedding. This was done and within an hour the fire was suffocated.

The destroyer Javelin took Nestor in tow, and three Hunt Class destroyers were sent to form an escort. The ships were attacked by high-level and torpedo-bombers, but no further damage was done. Night brought more troubles, as the tow parted twice. Only 80 miles had been covered, and there were still 230 miles to go to Alexandria, in waters dominated by the Luftwaffe.

Nestor's fate was sealed by the approach of E-Boats at dawn. The position was now critical; Commander Rosenthal requested Javelin to break radio silence to advise the Commander-in-Chief at Alexandria of the gravity of the position. Admiral ordered that Nestor was to be scuttled. The ship's company jumped across onto Javelin, which had come alongside. Scuttling operations were carried out, but it was necessary for Javelin to fire seven charges to hasten her end.




Nestor sank 115 miles north-east of Tobruk. In her short life, she saw more action than most destroyers, and was the only Australian warship that had never served in home waters; she had steamed 90,000 miles before she was sunk.

In the history of the Australian 'N Class' destroyers, published by the Naval Historical Society of Australia in 1972, the ship's engineering officer paid this tribute to her Captain:

'He was one of those rare individuals, a man of ultra-quick decision. For a ship at war, it had to be the right decision in a moment of crisis, and Nestor's illustrious career in a very large measure was due to the man who commanded her. Invariably relaxed and cheerful when off-duty or in harbour, at sea he drove the ship and her complement hard, but it was what everyone expected. He was the master of his profession as a destroyer-man. A capable ship-handler, a meticulous navigator, and insatiably interested in the day-to-day details of the ship's affairs that matter for fighting efficiency. Of bright and breezy personality, forthright and outspoken – not always to senior officers' liking – he was highly regarded by his brother captains in the various fleets in which Nestor served, as well as by Captain D7, Captain Stephen Arliss, DSO, RN. For the officers and ship's company of Nestor, her Commanding Officer was a man who earned their complete respect, confidence and admiration'.


His next appointment was as Australian Naval Attaché, Washington. It was an excellent choice to send an experienced Destroyer officer who, quite apart from being highly decorated, was a good mixer with a generous and, outgoing personality.

He left Washington at the end of 1944, for his next appointment as Captain of the Dockyard and Deputy Superintendent, Garden Island Dockyard, which carried promotion to the acting rank of Captain.

In May 1946 he was appointed Director of Naval Reserves, where he served until March 1956. He was awarded the OBE in the King's Birthday Honours in 1951.

After serving as Director of Studies of the Industrial Mobilisation Course from 1956 to 1958, his last appointment was as Director of Recruiting – Combined Services. Granted the honorary rank of Commodore in April 1960, he retired from the Navy on 16 January 1961.

At St Andrew's Presbyterian Church, Frankston, on 8 April 1960 Rosenthal married Alison Lucy Urquhart, née Platts, a schoolteacher. He enjoyed a long retirement, and was unfortunate in having an early business venture not develop successfully, but he took this in his stride in his usual cheerful fashion; he fell back on his great lifetime hobby, model-making. He had an excellent workshop at his home, and made some beautiful models of locomotives and ships; the detailed and intricate work was that of a true craftsman and perfectionist. To some, he became somewhat of a recluse, but he maintained a very keen interest in Naval affairs, particularly of the Naval Historical Society's history of the 'N Class' destroyers. He was the first president of the Frankston sub-section of the Naval Association of Australia.

Captain Rosenthal, a great destroyer captain, and a courageous and most capable officer, died on 20 July 1975 at Heidelberg, and was cremated. He was survived by his second wife Allison, and two sons by his first marriage.

Sources:

Naval Historical Society of Australia - by Captain R.G. Parker OBE RAN Rtd.
Sea Power Centre Australia - by J.S. Seers
Naval Historical Society of Australia - by L.J. Lind and Alan Payne