Leut. Ian Desmond Rhodes CGM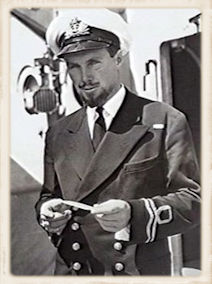 Ian Desmond Rhodes (Laurie-Rhodes) was born on 19 August 1912 at Ongaonga, near Waipawa, New Zealand, the younger son of Albert Victor Laurie-Rhodes, a sheep-farmer from Victoria, and his New Zealand-born wife Agnes. In 1920 the family settled in Victoria and Ian was educated at Geelong Church of England Grammar School where he did well in sport, especially Australian Rules football. He turned to farming before working as a salesman. On 1 April 1939 at Christ Church, South Yarra, he married June Phillips Allan, a dress designer, they were to have one child before being divorced on 7 November 1947.
Using the surname Rhodes, he attempted to enlist in the Army, Navy and Air Force on the outbreak of World War II, but was rejected because of a stomach ulcer. A sympathetic medical examiner cleared him for service on 17 September 1940 and he entered the Royal Australian Naval Volunteer Reserve as an Ordinary Seaman under the British Admiralty's yachtsmen scheme. Rhodes was immediately posted to Britain for further training at HMS Collingwood, before joining the destroyer HMS Kashmir on 1 April 1941 and the following month took part in the RN's attempt to prevent a German seaborne invasion of Crete.
On 23 May, Kashmir, together with HMS Kelly and HMS Kipling, were sailing to Egypt for refuelling when they came under heavy attack by German fighters and bombers. Kashmir suffered a direct hit and was cut in half and began to sink rapidly. When a German bomber machine-gunned both the rear section of the ship and members of her crew who were struggling in the sea, Rhodes left the port Oerlikon gun as the water rose around it and climbed to the nearby starboard gun. Turning this weapon against the attacking bomber, he shot it down in flames.
Rhodes was rescued from the sea and taken to Alexandria in HMS Kipling, his only possessions a pair of shorts and a borrowed cap.
For his courageous and selfless actions during the attack, Rhodes was awarded the Conspicuous Gallantry Medal, the highest decoration — next to the Victoria Cross — which could be awarded to naval ratings. No other Australian sailor received this decoration in World War I or II. The citation reads:
'For outstanding gallantry, fortitude and resolution during the Battle of Crete. After HMS Kashmir had been hit amidships by a bomb and was sinking, the afterpart was machine-gunned at short range by a JU.87 bomber. Ordinary Seaman RHODES was gunlayer of the Port Oerlikon which was at that time going under water. In spite of the fact that the ship was sinking rapidly, he climbed up to the Starboard Oerlikon and opened fire on the aircraft, which was hit and crashed a few cables away'.
Rhodes' own account of the action explains further:
'Kelly turned turtle as a bomb crashed on her quarter-deck, and a bomb landed in front of me, cutting the Kashmir in half. My part of the ship - the stern - listed to port, and I continued firing until the gun was submerged. Then I crawled to starboard, intending to dive overboard, when a Stuka began dive-bombing and machine-gunning the swimming members of the crew. A German spotted me, and sent a stream of bullets at me. I got in a long burst, and saw the plane crash a hundred yards away. Kipling, whose steering-gear had been put out of action earlier, now re-appeared, steering with her engines, but, although attacked, she had a charmed life, and the crew calmly went on picking up survivors. All the eight Australians on board were rescued.'
Rhodes joined HMS King Alfred in late May 1941 for officer training and was promoted to Able Seaman in September of that year. He was commissioned as a Sub Lieutenant on 22 January 1942 and the following month was presented with his CGM by King George VI at Buckingham Palace.
Joining the cruiser HMS Sheffield on 10 April 1942, he served in the Atlantic and Arctic oceans, escorting convoys to and from Russia. While serving in Sheffield he was promoted to Lieutenant and gained his Watchkeeping Certificate but his time onboard was far from happy with his Commanding Officer describing him as disappointing, slow to learn and unwilling to accept criticism.
In March 1943 he was transferred to the heavy cruiser HMAS Shropshire which was then being commissioned in England. He remained with that ship until July 1944, during which time the cruiser operated in New Guinea waters, with Rhodes winning favourable regard as a "keen and capable" officer and "well above average". Rhodes was posted ashore in July 1944 and served briefly at HMAS Lonsdale (Melbourne) and HMAS Cerberus (Crib Point) before sailing, in October 1944, to the United Kingdom.
In late December he was appointed to HMS Mount Stewart, a naval special operations training base in Devon, England before joining the submarine depot ship HMS Maidstone in February 1945 as the 1st Lieutenant of the Services Reconnaissance Department Naval Section for service in the Pacific theatre. He was described by his Commanding Officer as "a sound, capable and dependable officer whom I consider to be outstanding".
Lieutenant Rhodes was appointed to Lonsdale, in December 1945, and demobilised on 26 April 1946, becoming a farmer at Labertouche, Victoria. On 27 November 1947, he married Patricia May Worboys, a divorcee. He later went into business working for the United Linen Company Pty Ltd, importers and wholesalers of Irish manchester linen, and subsequently became a director of the company.
Survived by his wife, and the son of his first marriage, he died of cirrhosis of the liver on 3 January 1967 in Fairfield Hospital, Melbourne and was cremated.

Lieutenant Ian Rhodes' unique medal group on display at the Australian War Memorial
Sources:
Australian War Memorial
Sea Power Centre Australia
Australian Dictionary of Biography