Charles Alexander Pethebridge, the son of John Anthony and Sarah Anne Pethebridge, was born on 6 March 1923 at Northcote, Victoria. He joined the Royal Australian Naval Reserve (RANR) on 30 June 1941 as a Stoker 2nd Class and undertook his initial training at HMAS Lonsdale and HMAS Cerberus. He was posted to the light cruiser HMAS Perth, on 2 January 1942.
Perth sailed for the Java theatre on 14 February arriving at Batavia ten days later. Almost immediately the cruiser came under Japanese air attack, fortunately sustaining no damage. During the night of 27-28 February, en route from Surabaja to Madura Island, a fourteen ship ABDA (American, British, Dutch and Australian) force engaged Japanese naval forces in the disastrous Battle of the Java Sea. Five Allied ships were lost and Perth was lucky to escape.
On the evening of 28 February 1942, Perth, in company with the cruiser USS Houston, encountered a superior Japanese fleet protecting a large invasion force bound for Banten Bay, Java. During the subsequent action, the Battle of the Sunda Strait, a large number of enemy ships attacked both ships from all directions. Perth managed to avoid enemy damage until the very end of the action when at about midnight it was reported that very little 6-inch ammunition was left in her magazines. At that juncture Perth's commanding officer, Captain Hec Waller, RAN, decided to attempt to force a passage through Sunda Strait and to safety.
Ordering full speed and altering course for Toppers Island in the northern part of the Strait, Perth had barely steadied on course when she was struck on the starboard side by an enemy torpedo. It proved to be a critical hit and consequently Captain Waller gave the order to prepare to abandon ship. A few moments later a second torpedo struck Perth just ahead of the first hit, and the order was then given to abandon ship. Later a third torpedo struck the crippled cruiser, well aft, on the starboard side. This was followed shortly afterwards by a fourth torpedo, which hit on the port side; the ship then briefly righted herself, heeled over to port and sank at about 00:25 on 1 March 1942.
Meanwhile USS Houston was still fighting, although badly damaged and on fire. She too was hit by torpedoes and sank shortly afterwards closer inshore. A Japanese report recorded their losses as 'one mine-sweeper and one transport of the convoy sunk and several vessels seriously damaged'.
Of Perth's ship's company of 681, 353 did not survive the sinking while four others died ashore before being taken prisoner. Pethebridge was one of 324 Perth men who survived the sinking and who were taken prisoner by the Japanese. He, along with his surviving ship-mates and other POWs, survived the next two-and-a-half years in captivity being held variously at Java and Changi Prison in Singapore before enduring the horrors of the Burma-Thai Railway. From there, Pethebridge was transported over the rickety railway that he and his fellow POWs had been forced to build to Tamarkan in Thailand, then by train to Phnom Penh and by river steamer to Saigon before retracing their steps back to Phnom Penh, to Bangkok and eventually to Singapore.
At Singapore the impoverished prisoners were herded aboard what became known as 'hell ships', a variety of old cargo vessels in which the POWs endured appalling conditions en route to Japan for further imprisonment and slave labour. None of the Japanese ships carried any markings to identify them as POW transports and consequently a number were subject to attack from Allied submarines and aircraft that had no knowledge of their human cargo.
This was the fate that befell the Rakuyo Maru, a cargo ship of nearly 9,500 tonnes packed with 1317 POWs, 716 of whom were Australian. Of those, 45 were Perth survivors including Stoker Pethebridge. On 12 September 1944, Rakuyo Maru was torpedoed by the submarine USS Sealion. When Sealion and the other USN submarines in attendance realised that they had torpedoed a POW transport, they immediately initiated rescue operations. They rescued over 100 men from the water, four of whom later died from their injuries. Tragically 1159 POWs were lost. The remainder were recovered by other Japanese ships and continued on to Japan.
Stoker Pethebridge survived the initial submarine attack finding himself aboard a raft along with a small number of other survivors. Despite having endured two-and-a-half years in captivity in appalling conditions, Pethebridge, in his weakened state, left the raft on several occasions, without a life-belt, to go to the help of those who through physical weakness could not prevent themselves from slipping in to the sea before he himself, through exhaustion, slipped away and disappeared. He was 21 years old.
It is unknown how many lives Stoker Pethebridge saved but survivors aboard the raft gave testament to his selfless act believing that had he remained on the raft and not exhausted himself in his rescue efforts, he too would have survived.
In 1947 for his actions in the aftermath of the sinking of Rakuyo Maru, Stoker Pethebridge was posthumously awarded the Albert Medal in Bronze for saving life at sea. He is the only Australian so awarded during the Second World War.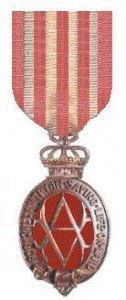 Listed in the Commonwealth of Australia Gazette No.70 dated
Thursday 10th April 1947:

"The Governor-General has received advice that his Majesty The King has approved of the following award - with effect from
17th July, 1945:-

Royal Australian Navy

For gallantry in saving life at sea at the cost of his own -
12 September, 1944:

Albert Medal in Bronze (Posthumous)

Stoker 2nd Class Charles Alexander Pethebridge, W/2165.

When the ship on which he was a passenger was torpedoed, Stoker Pethebridge got away with twenty others on a raft. During the ordeal which followed Pethebridge left this raft on several occasions, without a life-belt, to go to the help of those who through physical weaknesses could not prevent themselves from slipping into the sea.

The strain of this merciful work upon himself was such that he could not carry on, and during the night which followed the sinking of the ship, he himself disappeared."
In 2012, Charles' 91 year old brother John, contacted the Medals Gone Missing website to inform them that the medal was missing.
In 1991 a new sailors accommodation block at HMAS Cerberus was named Pethebridge House in his honour.
Informal photograph of W2164 (W/2164) Stoker Charles Alexander Pethebridge, HMAS Perth, with his brother VX60578 Corporal (Cpl) John Edward Pethebridge, 2/8 Armoured Regiment, later 42 Australian Landing Craft Company. Cpl Pethebridge also enlisted in Melbourne, Victoria. His regiment deployed to New Guinea in April 1943 primarily to defend allied airfields against possible attack by Japanese paratroopers before returning to Australia in February 1944. When the regiment was disbanded in May 1944 he was transferred to 42 Australian Landing Craft Company which served in New Guinea, New Britain and Bougainville until the end of the war. Cpl Pethebridge returned to Australia and was discharged on 21 January 1946.
Group portrait featuring VX60578 Corporal (Cpl) John Edward Pethebridge and W2164 (W/2164) Stoker Charles Alexander Pethebridge with their maternal aunt Mrs Kit Watson.
Source:
Sea Power Centre - Australia
Australian War Memorial
Virtual War Memorial Australia
Medals Gone Missing