Florence Violet McKENZIE OBE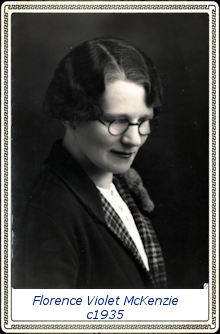 Florence Violet McKenzie was Australia's first female electrical engineer. She set up her own electrical contracting business in 1918, and apprenticed herself to it, in order to meet the requirements of the Diploma in Electrical Engineering at Sydney Technical College. Her great enthusiasm was the new medium of radio, and in 1922 she was the first Australian woman to take out an amateur radio operator's license. Through the 1920s and 1930s, her Wireless Shop in the Royal Arcade - 'the oldest radio shop in town' - was renowned amongst Sydney radio experimenters and hobbyists.
There were other achievements:
founding The Wireless Weekly in 1922,

establishing the Electrical Association for Women in 1934,

writing the first 'all-electric cookbook' in 1936,

corresponding with Albert Einstein in the postwar years.
But McKenzie is best known for her extraordinary voluntary effort during World War II.
She established the Women's Emergency Signalling Corps in 1939, and

campaigned successfully to have some of her female trainees accepted into the all-male Navy, thereby originating the Women's Royal Australian Naval Service (WRANS).
Meanwhile, some 12,000 servicemen passed through her signal instruction school at 10 Clarence Street, acquiring essential skills in morse, visual signalling and international code. While the training of servicemen was her war effort, technical training for women was her great ambition from the start.
Childhood and education
Before her marriage to Cecil McKenzie at the age of 34, Florence Violet McKenzie was known as Violet Wallace, though she was born Florence Violet Granville, on 28 September 1890, in Hawthorn, Victoria. Wallace was her stepfather George's surname; he was a commercial traveller. When Violet was an infant, the family moved to Austinmer, south of Sydney.
From a young age, Violet had an independent interest in electricity and invention. As she recalled in an oral history interview in 1979:
I used to play about with bells and buzzers and things around the house. My mother would sometimes say 'Oh, come and help me find something, it's so dark in this cupboard' – she didn't have very good eyesight. So I'd get a battery and I'd hook a switch, and when she opened that cupboard door a light would come on. I started sort of playing with those things.
From Thirroul school, Violet won a bursary to study at Sydney Girls' High School. In 1915 she passed Chemistry I and Geology I at the University of Sydney, then approached the Sydney Technical College in Ultimo to enrol in the Diploma of Electrical Engineering. She later recounted the extraordinary story of persuading the College to let her in:
I went down to Technical College and saw the Head there, and he said, 'Oh, you can't come here and do engineering unless you're working at it'. I said, 'Well now, suppose I had an electrical engineering business and I'm working at it, would that be all right?' He said, 'Yes, if you produce proof.' So I went back and I had some cards printed with my name on, and electrical work, and got the paper and wrote down the ads, and read that a house, way out beyond Marrickville somewhere, was asking for prices for putting in electric light and power. I went out there and nobody else was silly enough to go, so they gave me the job. It was about a mile from the end of the tram line. I went back to Tech and took my card down and showed them the contract for the job, and they said, 'All right, you can start.'
In December 1923, Florence Violet Wallace graduated from the Sydney Technical College. Her Diploma – the first of its kind awarded in Australia to a woman – is held in the collection of the Powerhouse Museum.
Electrical work, supplier of radio parts, publisher, experimenter
Throughout her studies, Violet worked as an electrical contractor, installing electricity in private houses, such as that of politician Archdale Parkhill in Mosman, and in factories and commercial premises, including the Standard Steam Laundry on Dowling Street, Woolloomooloo.

Violet McKenzie with wireless c1922 - courtesy of the Ex-Wrans Association NSW
In 1922 Miss Wallace opened The Wireless Shop in the Royal Arcade. Ric Havyatt of the Historical Radio Society of Australia remembers visiting the shop during his school days:
It was only a short walk across Hyde Park from Sydney Grammar School, the Arcade was home to several radio shops. Miss Wallace's was always crowded, and I seem to remember her occasionally helping out the penurious with second hand parts.
McKenzie later said it was schoolboys visiting her shop who first introduced her to Morse code.

People outside Violet McKenzie's wireless shop in the Royal Arcade c1928 -
courtesy of the Ex-Wrans Association NSW
Australia's first weekly radio magazine was conceived at Miss Wallace's Wireless Shop, by McKenzie and three co-founders. This magazine later morphed into Radio and Hobbies and later still, Electronics Australia and remained in circulation until 2001. The 1948 call book lists her as VK2FV which lapsed about 1959. Regaining interest in amateur radio in 1979, Florence again became 2GA, this time VK2GA, which she held until her death in 1982.
In 1924 McKenzie became the only female member of the Wireless Institute of Australia. That same year she travelled to the United States for business reasons, and in San Francisco was welcomed at radio 6KGO: 'Miss Wallace, an electrical engineer from Australia, will now talk from the studio.' She reportedly used her time on air to comment on the difference between the tram systems in San Francisco and those in Sydney.
In 1931 McKenzie recorded in The Wireless Weekly that she experimented with television as well as radio:
Have a pronounced kink for television work and devote most of my spare time in experimenting that branch of the science. Have a deep-rooted conviction that chemistry is going to provide the solution and am working along those lines.
Marriage
Cecil Roland McKenzie was a young electrical engineer employed by the Sydney County Council's Electricity Undertaking. He too was a radio enthusiast, and one of Violet's customers. They were married at the Church of St Philip in Auburn on New Years Eve 1924. They built a house at 26 George Street, Greenwich, complete with a wireless room in the attic, and an enormous fish pond in the front yard. The house remains, but has been extensively renovated since the McKenzies lived there.
The McKenzies had a mutual interest in tropical fish. She spoke of heating water electrically to house tropical fish at home in the early 1920s, and of having given talks on radio 2FC about tropical fish in the days when she was doing electrical contracting work:
One of my hobbies used to be tropical fish, it was mostly my husband's. I used to give talks over the air on 2FC. I remember going into a restaurant in Bathurst Street. I was doing a job there and I was hammering away at something, and the proprietor came up to me and said, 'Hey missy, will you stop that for a minute.'

So I said, 'Yes, I'm sorry, what's the trouble?' He said, 'I want to listen to the session coming on, on tropical fish.' It was my session.
In January 1933 the American journal Aquariana published an article written by McKenzie concerning 'Some interesting inhabitants of Sydney seashores', in which she recommended keeping sea horses in a salt-water tank.
The McKenzies had no children of their own, but sometimes took in the two sons of Violet's only sibling, Walter Reginald Wallace, from Melbourne. These boys, Merton Reginald Wallace and Lindsay Gordon Wallace, later operated their own radio shop in Prahran, Melbourne.
Technical education for women
In the 1930s, Violet McKenzie turned her attention increasingly to teaching other women about electricity and radio. She had observed the need over years of working in the field herself. In 1925, she told the Australian Women's Mirror:
'There are such a lot of women experimenters amongst my customers that I would like to form a Women's Wireless Club.'
In 1931 she told a Sunday Sun reporter that she wanted to see a course of lectures on domestic radio and electricity established in girls' schools and technical colleges.
She took matters into her own hands, opening a Women's Radio College on Phillip Street in 1932. She persuaded employers to take on some of her trainees, as one of them later recalled:
During the Depression I joined Mrs Mac's electrical school in Phillip Street. It was the first time girls were involved with electrical circuits, Morse and making radio sets. Later Mrs Mac decided it was time to use our skills in industry, so she persuaded Airzone Ltd to take one of us (me) on trial in their radio section. Soon the others followed from the school, and we started the component parts section, and we were absorbed into many other sections.
McKenzie believed that electricity could save women from domestic drudgery. She wrote:
'To see every woman emancipated from the "heavy" work of the household by the aid of electricity is in itself a worthy object.'
To this end she founded the Electrical Association for Women (EAW) on 22 March 1934 at 170 King Street, later moving to 9 Clarence Street. The purpose was educational rather than commercial, as a 1936 advertisement for the association makes clear.

Afternoon-tea time at the Electrical Association for Women's rooms, Violet McKenzie at piano c1936
courtesy of the Ex-Wrans Association NSW
By 1936, McKenzie had sold the Wireless Shop, and was busy at the Electrical Association for Women. She gave electric cooking demonstrations in the EAW kitchen, which was fitted out with show electrical appliances by the Sydney County Council. She compiled the EAW Cookery Book, Australia's first 'all-electric' cookery book, which ran into seven editions and remained in print until 1954.

Headquarters of the Electrical Association for Women at the corner of Clarence and Grosvenor streets 1936
Electrical safety for children
In August 1936, McKenzie was invited by the state government's Electricity Advisory Committee to join a panel
"to consider the practicability of preparing suitable literature of an educational nature, preferably illustrated, for circulation throughout the schools in the State" on the subject of electrical safety. The letter from the Acting Secretary of the committee noted that McKenzie had 'for some time past been engaged on the preparation of a pamphlet having a similar design and had endeavoured to cooperate with the Education Department in this connection.'
In 1937, the Electrical Association for Women published The Electric Imps, a children's book written and illustrated by its Director, Mrs F.V. McKenzie, and described as presenting 'The story of electricity, simply told, with the object of educating the youthful mind in its safe use.' Its contents also appeared in the School Magazine and The Sun newspaper.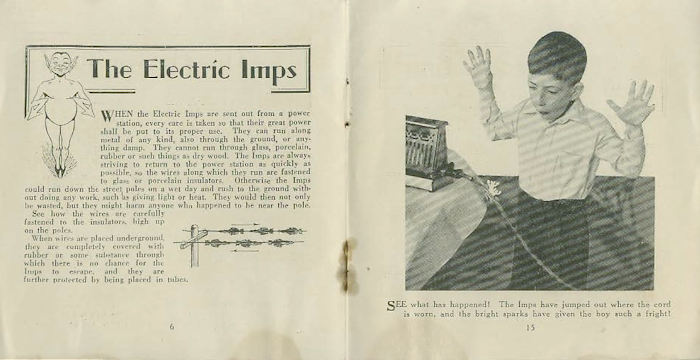 Pages from book The Electric Imps 1937
Wartime initiatives
As World War II loomed, McKenzie saw that with her qualifications and teaching skills she could make a valuable contribution. She foresaw a military demand for people with skills in wireless communications. As she told a reporter in 1978:
'When Neville Chamberlain came back from Munich and said 'Peace in our time', I began preparing for war.'
In July 1938, McKenzie was one of 80 women in attendance at the inaugural meeting of the Australian Women's Flying Corps held at the Feminist Club of New South Wales at 77 King Street. McKenzie was appointed treasurer and instructor in Morse code to the organisation, which was later known as the Australian Women's Flying Club.
In 1939 McKenzie established the Women's Emergency Signalling Corps (WESC) in her Clarence Street rooms. Her original idea was to train women in telegraphy so that they could replace men working in civilian communications, thereby freeing those skilled men up to serve in the war. This she accomplished: by the time war broke out, 120 women had been trained to instructional standard.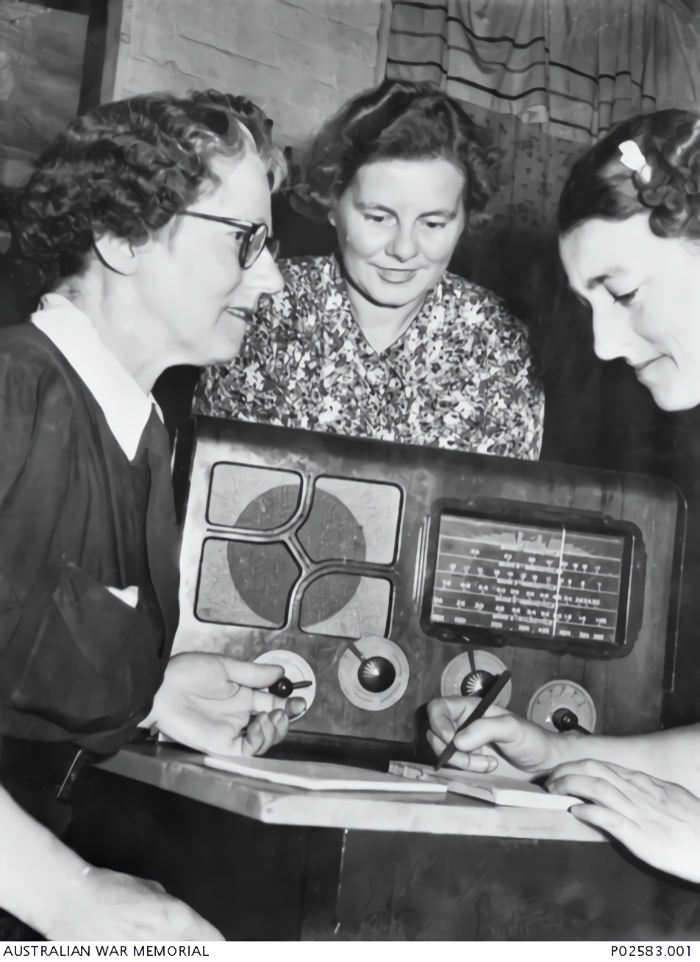 Three members of the Women's Emergency Signalling Corps,
l-r Violet McKenzie, Pat McInnes, Esme Kura Murrell c1940

Women's Emergency Signalling Corps members at Castle Hill c1939 - courtesy of the Ex-Wrans Association NSW
But it quickly became apparent that men in the services urgently needed training in wireless communications. A newspaper article in the 1970s described the moment when McKenzie realised that she and her female trainees at the WESC could train servicemen directly:
Early in the war, one young would-be pilot tried to enlist but was refused because he didn't know Morse code … By sheer coincidence he walked past the Women's Emergency Signalling Corps on Clarence Street and heard the sounds of Morse signalling.

'It was just a room full of women,' remembered Mrs McKenzie, 'but he walked up to me and said 'Will you teach me Morse code?' I just heaved a big sigh because I saw a whole world opening up in front of me. Then I knew what we could do. We could train girls to train the men. It was wonderful, because I'd thought we could only do things like relieving in the post office.'
Soon the premises at 9 Clarence Street became overcrowded, so McKenzie moved the operation to an old wool store at 10 Clarence Street, where for the next decade the WESC occupied the first and second floors. Sometimes intelligence personnel would appear at the school with complaints from guests in the pub next door, who thought a spy operation was at work when they heard Morse code through the walls each evening.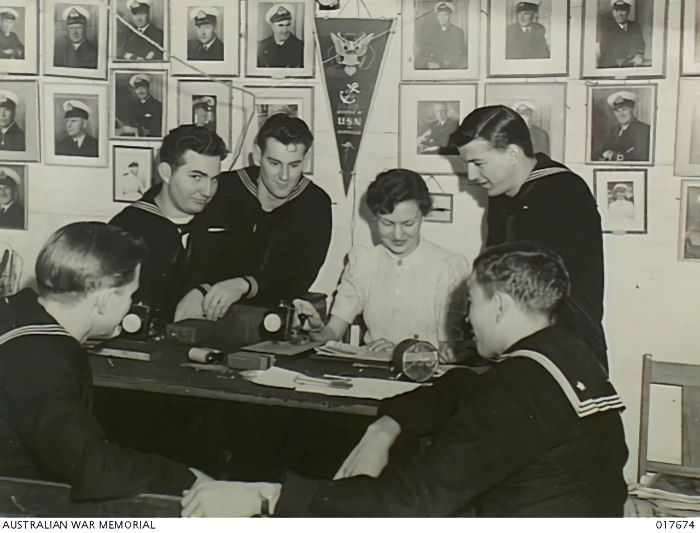 Noreen Dudgeon of Rose Bay instructs US Naval personnel in visual signalling, Sydney c1943
Some 12,000 servicemen and recruits made their way up the steep wooden stairs for instruction at the bustling WESC school during the war, as McKenzie later recounted:
The Army sent lorry loads of soldiers to have early training in Morse before going to the Middle East, the RAAF sent several groups of servicemen in uniform, with their own instructor, to use our equipment. The Royal Indian Navy sent their Indian communication ratings. Many RAN musterings came to the signalling school to improve their signalling. Scores of American servicemen attended the school, sometimes with their own instructor, but mostly to join our classes. More than forty police officers attended the school in their spare time to reach the necessary standard for enlisting as pilots in the RAAF.
McKenzie ran the school without any government grant or allocation of accommodation by the services. The women of the WESC each gave one shilling per week towards the rent, but no fees were ever charged for tuition: instruction of servicemen was a voluntary effort on the part of McKenzie and the WESC.
To the thousands of men and women who trained at 'Sigs' on Clarence Street, Florence Violet McKenzie was known affectionately as 'Mrs Mac'.
Female telegraphists enter the auxiliary services
McKenzie campaigned energetically to have some of her female trainees accepted into the Air Force and Navy as telegraphists. She encountered a great deal of official resistance. In 1940 she wrote to the Minister of the Navy, WM (Billy) Hughes:
'I would like to offer the services of our Signalling Corps, if not acceptable as telegraphists then at least as instructors.'
Her suggestion was dismissed. She travelled to Melbourne to meet with the Naval Board, and invited them to send an officer to test the ability of her trainees.
In early January 1941, Commander Newman, the Navy's Director of Signals and Communications, visited the WESC headquarters on Clarence Street to test McKenzie's trainees. Finding they were highly proficient, he recommended the Navy admit them. Hughes still took some convincing. But the urgent need for trained telegraphists prevailed, and on 21 April a Navy Office letter authorised the entry of women into the Navy. This was the beginning of the Women's Royal Australian Naval Service – the WRANS. The minister's condition was that
'No publicity be accorded this break with tradition'.
On 28 April 1941, McKenzie accompanied 14 of her WESC trainees to HMAS Harman in Canberra, where they quietly became the first members of the WRANS. The women were dressed in their green WESC uniform which had been designed by their teacher Mrs Mac – it was several months before a female Navy uniform was ready. From this initial intake of 14, the WRANS ranks expanded to some 2,600 by the end of the war, representing about 10 per cent of the entire Royal Australian Naval force at the time.
All told, McKenzie trained about 3,000 women, one-third of whom went into the services. Many others remained at the Clarence Street school as instructors.
In May 1941, the Air Force appointed McKenzie as an honorary flight officer of the Women's Auxiliary Australian Air Force, so she could legitimately instruct Air Force personnel. This was the only official recognition McKenzie received during the war for her efforts.
Postwar wireless training
Violet McKenzie helped with rehabilitation after the war, keeping her school open for as long as there was a need for instruction in wireless signalling. In the postwar years, she trained men from the merchant navy, pilots in commercial aviation, and others needing a signaller's ticket. In 1948, a Sky Script reporter paid a visit to the school and described the scene, and the diversity of students:
At a table in a corner recently there were six elementary trainees: One was a Chinese quartermaster, another a half-Burmese. Two were Americans, one, an aircraft skipper down from New Guinea to get his wireless ticket; and the other chap a ship's officer with the same objective.

In another corner there's an ANA commander preparing for his 20-word-a-minute exam: an English ship's wireless officer, an ex-RAF Wing-Commander, an Indian Navy man and groups of airline 'types' also on the job.

Violet McKenzie with overseas naval personnel c1953 - courtesy of the Ex-Wrans Association NSW
McKenzie told a journalist that, after the war, 'All the airmen came back and wanted to join Qantas, but they needed to build up their Morse speed and learn to use the modern equipment.' The Department of Civil Aviation fitted out a room at the school with transmitters, receivers and radio compass so that pilots could train for their wireless ticket at the school. From 1948, McKenzie held a First Class Flight Radio Telephony Operator License. AR Gray was one of many ex-RAAF airmen who retrained for a civilian career with McKenzie in this period. He wrote:
Being unemployed, we spent almost all of each weekday at the school, so if a tuition fee had been applicable, Mrs Mac would have earned a tidy sum of money. That, of course, was not her way of doing things. She required no payment for the training she provided, and I suspect that she was quite out of pocket over the whole affair.

It would be true to say that a great number of the pilots whose futures were finally fulfilled in airlines in Australia owe a deal to Mrs Mac.
There was no other school operating in Sydney at the time, providing Morse training to potential airline pilots, and no other school then or thereafter giving such training completely free of charge.
Famous aviators who trained for their wireless ticket at McKenzie's school include Patrick Gordon Taylor and Cecil Arthur Butler. McKenzie also trained Merv Wood, later Commissioner of Police in New South Wales, and the principals of the Navigation Schools at both the Melbourne and Sydney Technical Colleges.
Given that Violet McKenzie had no income after she closed her shop in the mid-1930s, running the signal school on a fee-free basis for a decade and a half must have entailed considerable personal sacrifice. Her husband's salary from the Sydney County Council may have been enough to support them both while he was alive. She may have saved money during her time as a retailer. She may have received an inheritance when her parents both died in 1933, though they were of modest means. But McKenzie appears to have made ends meet over long years of voluntary service largely by being frugal and self-sacrificing.
Correspondence with Einstein
In early 1949 McKenzie started writing to Albert Einstein. Her first letter to him wished him a speedy recovery from recent illness. Two of her letters are held in the Einstein archives in Jerusalem. It is clear from the second letter that he wrote back to her at least once. Some accounts claim that McKenzie corresponded regularly with Einstein for as long as 15 years before his death in 1955, but the documentary record suggests such reports exaggerate the extent of the correspondence.
McKenzie herself said that she and Einstein corresponded for some years.
He was very interested in Australia and his favourite daughter, she was really a step-daughter, was terribly fond of shells. And I used to get my marine boys to bring me in shells from the islands, and the air boys, they'd take a big tin of shells over to the States for me.
It's evident from one of her letters that she sent him a boomerang which had been brought to her from Central Australia by an airline pilot. She wrote 'Some of your mathematical friends might like to plot its flight!' There are other reports that she sent him a didgeridoo, and a recording of didgeridoo music when he replied that he couldn't work out how to play the instrument.
Awards and honours
In 1950, McKenzie was awarded an OBE for voluntary services to the Women's Emergency Signalling Corps. In 1957 she was elected a Fellow of the Australian Institute of Navigation. In 1964 she became Patron of the Ex-WRANS Association. In 1979 she was made a Member of the Royal Naval Amateur Radio Society. In 1980 a plaque celebrating her 'skills, character and generosity' was unveiled at the Missions to Seamen Mariners' Church, Flying Angel House.
The Oceania DX Contest

The historic Oceania DX ("OCDX") Contest is one of the longest-running contests in the amateur radio calendar. It is an annual competition between radio amateurs to make contacts on the HF (shortwave) bands, specifically DX (long distance) contacts with stations in Oceania.

The Florence McKenzie (Mrs Mac) Award is awarded to the YL ("young lady") Single Operator entrant from Oceania with the highest combined score in the Phone and CW sections.
Retirement
According to a People magazine profile of McKenzie written in January 1953, McKenzie received an unceremonious notice from the owners of 10 Clarence Street to quit the premises. The Sands Directory indicates that she moved her operation briefly to No 6 Wharf at Circular Quay in 1953, before retiring to her home at Greenwich Point in 1954.
McKenzie wrote that she closed the school when the airlines established their own school and the government added a signals training section to the Navigation School at the Technical College. She continued to help the occasional pupil with special difficulties at her home.
Final years
Violet McKenzie was nine years older than her husband Cecil, but she outlived him by 23 years. After his death in 1958, she shared her house for a time with Cecil's sister Jean, a primary school teacher.
In May 1977, after a stroke paralysed her right side and confined her to a wheelchair, McKenzie moved to the nearby Glenwood Nursing Home.

Violet McKenzie, possibly at unveiling of plaque at Mission to Seamen Mariners Church c1980
courtesy of the Ex-Wrans Association NSW
She died peacefully in her sleep on 23 May 1982. At her funeral service, held at the Church of St Giles in Greenwich, 24 serving WRANS formed a Guard of Honour. McKenzie was cremated at the Northern Suburbs Crematorium.

Funeral of Violet McKenzie, Greenwich May 1982 - courtesy of the Ex-Wrans Association NSW
The June 1982 edition of the newsletter of the Ex-WRANS Association was devoted to their former teacher and patron. Amongst the memories recorded therein is a statement McKenzie made two days before she died:
'It is finished, and I have proved to them all, that women can be as good as, or better than, men.'
Honour Roll of Women
In 2001 she was inducted into the Victorian Honour Roll of Women.
The Florence McKenzie Chair
The Australian National University (ANU) College of Engineering, Computing and Cybernetics is embarking on an ambitious agenda to reimagine engineering and computing to launch their society into the middle of the 21st Century. They are bringing non-traditional skills to engineering and computing to put people in the centre of delivering solutions to global challenges.
The Florence McKenzie Chair is part of this agenda and is proudly named in honour of Florence Violet McKenzie (née Wallace), Australia's first female electrical engineer.
Florence McKenzie exemplifies the pioneering spirit and lifelong pursuit of inclusive use of technology in society this Chair represents, and we proudly acknowledge and celebrate Florence Violet McKenzie and her legacy.

Through the establishment of this Chair, we begin the task of redefining what it means to exist in a technologically driven world and how to drive fit-for-purpose technological development.
The Inaugural McKenzie Chairholder is Professor Genevieve Bell.
Canberra park honours signals pioneer
In July 2023 a park in Campbell ACT was named after 'Mrs Mac' to recognise her dedication to service including the creation of the Women's Royal Australian Naval Service(WRANS).
In late 2022, the local community was encouraged to nominate names for an existing park area in Campbell.
The theme agreed on by the ACT government was 'female Defence personnel'.
From 21 candidate submissions, although only an honorary WRANS, Mrs McKenzie appeared several times and the ACT Place Naming Committee selected her name.
Violet McKenzie Park is open to the public and can be found behind the Campbell shops between White Crescent and Blamey Place.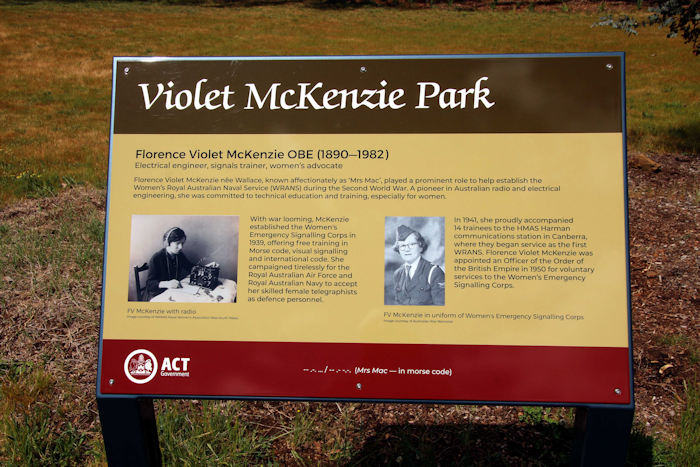 Sources:
The Dictionary of Sydney - McKenzie, Violet, by Catherine Freyne
Victorian Honour Roll of Women
Department of Defence
Oceania DX contest
Australian National University
Radio Girl by David Dufty - The Story of the Extraordinary Mrs Mac