Sheila McClemans was the third of five daughters born to Ada Lucy Walker, the first wife of William Joseph McClemans, Anglican clergyman. She was born in Claremont, Western Australia on 3 May 1909. Sheila's childhood was not an easy one. Abandoned by their alcoholic father, Sheila and her sisters were raised by their mother who was forced to work a variety of jobs and to take in boarders to make ends meet. Sheila learnt compassion for others at an early age as well as how to rely on her own resources to achieve her goals.
After a series of financial and bureaucratic struggles to gain entry and complete her studies, Sheila attended Perth Modern School and the University of Western Australia (LLB, 1931; BA, 1933), where she was vice-president of the University Women's Club. A champion swimmer, she also represented the university in hockey and tennis. McClemans was one of the earliest women law graduates in Western Australia and obtained her articles from Stawell, Hardwick & Forman. In her first year, however, her only source of income was coaching secondary school students at night.
McClemans was admitted to the Bar on 16 May 1933 but was unable to find a law firm that would engage her. Consequently, she and her friend and fellow graduate, Molly Kingston, founded Kingston & McClemans, the first all-female law firm in the State. Particularly interested in helping women with their legal problems, she became the first woman barrister to appear before the Supreme Court of Western Australia. The partnership with Kingston, however, failed and was dissolved in 1938. McClemans then joined Hardwick, Slattery & Gibson.
Despite the opposition of her employer, McClemans enlisted in the Women's Royal Australian Naval Service (WRANS) on 11 January 1943 at HMAS Leeuwin, Western Australia. As a WRAN rating she completed the first WRANS Officer Training Course at HMAS Cerberus, Westernport, Victoria. Promoted to Third Officer on 15 February 1943, McClemans was appointed to the staff of the Director of Naval Reserves and Mobilisation, Navy Office, Melbourne, in May of that year. Her excellent leadership and organisational skills earned her rapid promotion being appointed Second Officer in July and First Officer in November 1943. In January 1944 First Officer McClemans was appointed to administer the WRANS and in August she was appointed as the Director of the Women's Royal Australian Naval Service.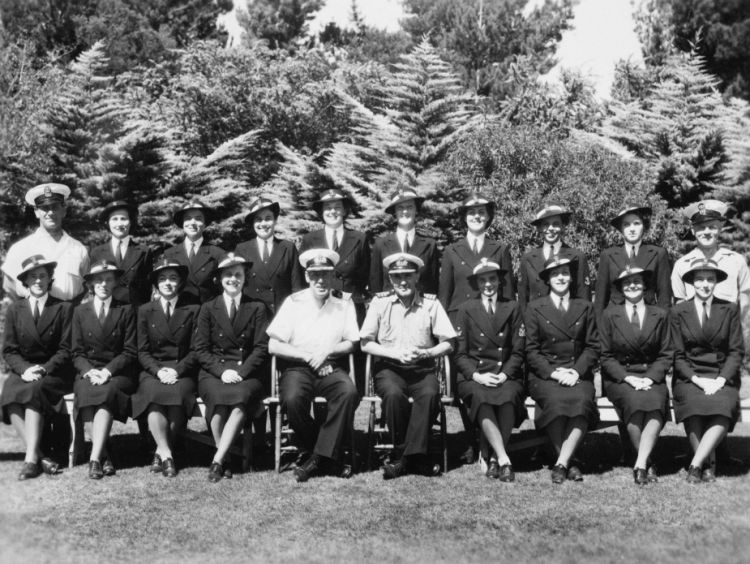 Members of the first WRANS Officer training class January 1943.
Back row: Chief Petty Officer Wells (instructor), Marion Egan, Jean Thompson, Mary Butler, Margaret Curtis-Otter, Sheila McClemans, Blair Williams (Bowden), Joan Furley, Nancy Spier, Chief Petty Officer Harding. Front row: Lorna Bradford, Betty Bradford, Joyce Medcalfe, Joan Cowie, Commander Baldwin, Commander Phelp, Frances Provan, Edna Goulston, Alice Gould, Thelma Fenton.
Confronting stringent service limitations that offered WRANS personnel fewer occupations than members of the Australian Women's Army Service and Women's Auxiliary Australian Air Force, McClemans strove to increase recruitment, to expand areas of employment and to improve promotion provisions. Many of her endeavours, however, were frustrated by the conservative hierarchy of the Royal Australian Navy (RAN), unused to women in the service. She travelled extensively, bringing understanding and deep benevolence to bear on the problems of administration. Promoted to Chief Officer (equivalent to a Commander) in January 1945 she continued to serve as the Director WRANS.
Sheila was selected to represent the WRANS at the 8 June 1946 Victory March in London - travelling with the Australian contingent of 250 personnel, to the United Kingdom in the heavy cruiser HMAS Shropshire, that departed in early April 1946. Although many stood in awe of her, beneath a slightly austere exterior she was a warm and compassionate person. Rear Admiral George Dunbar Moore, formerly second naval member of the Australian Naval Board, was to attribute the success of the WRANS largely to her:
"untiring interest in the welfare of every WRAN, her kindness,
and perhaps above all her sound common sense".
Before her appointment in the Navy ceased, on 27 February 1947, she submitted a paper entitled 'Proposals for a Permanent WRANS' in which she maintained her criticism of the lack of support for the WRANS from the RAN.
Following the post-World War II disbandment of the WRANS, Sheila returned to practicing law with Hardwick, Slattery & Gibson; the WRANS was re-established in 1951. On 6 August 1949, McClemans married Frank Morrison Kenworthy, chief engineer of the Metropolitan Water Supply Board, at Christ Church, Claremont and taking on the married surname of Kenworthy as was the normal practice of that era. She was appointed as an Officer of the Order of British Empire (OBE), in the Military List, on the King's Birthday Honours List 1951 "for services as Director of the Women's Royal Australian Naval Service".
In 1953 she set up her own practice, undertaking much pro-bono work. Sheila quickly built up one of Perth's largest divorce practices but sold it in 1960 to become secretary of the Law Society of Western Australia (1961-65) and administrator of its legal aid scheme (1961-70). In 1970 she returned to practice in the matrimonial courts, joining Hammond, Fitzgerald & King. She retired in 1980.
Sheila McClemans (Kenworthy) was National President of the Australian Federation of University Women (1950-52), a member of the Legal Aid Commission of Western Australia (1977-80), and a member of the Parole Board of Western Australia (1964-84). She was awarded the Queen Elizabeth II Silver Jubilee Medal in 1977 and was appointed as a Companion of the Order of St Michael and St George (CMG) in the 1978 New Years Honours List "for services to law and women's affairs".
In 1963 the Ex-WRANS Re-union Committee donated a trophy (a silver salver) to the RAN to be known as the Sheila McClemans Trophy "for competition for efficiency in naval establishments where WRANS personnel were serving". The trophy ceased to be awarded in 1984 (21 years after it was created) and in 1986 the WRANS were fully integrated into the RAN.
Sheila was to outlive her husband (they had no children) and all of her sisters. Lilly, her youngest sister, died in 1977. The following decade the remaining four McClemans sisters all died in a period spanning less than two years. Sheila McClemans (Kenworthy) died on 10 June 1988 in Dalkeith WA and was cremated. Although not an active feminist, throughout her life she had supported the rights of women and those unable to defend themselves. In an obituary Sir Francis Burt, chief justice of the Supreme Court of Western Australia, said of her:
'I suppose that at the end of the day, it was, for lawyers, her professionalism which was her most outstanding attribute and it was that uncompromising and uncompromised professionalism which was the true source of her capacity to lead and to influence. She served the law and through the law she served ordinary men and women with an unswerving devotion ... I am sure that at the end of her life she still saw herself as a debtor to her profession. And we are indebted to her.'
Sir Francis Burt,

Brief

, vol. 15, 5, July 1988.
In 2019 Sheila was once again honoured with having a Naval College Division named after her - McClemans Division. She was the first female to be given that honour. The College has seven divisions, each named after important naval officers who have played a role in forging the ethos and history of today's Navy.
Sources:
Sea Power Centre - Australia
The Australian Women's Register
Museum of Perth
Australian War Memorial