Warrant Officer Agnes Lenore 'Lennie' Maiden WR84591

Warrant Officer Maiden was born on the 14 June 1937 at Taree on the North Coast of NSW and was educated at Wingham, Port Macquarie and Wauchope before she joined the Women's Royal Australian Navy Service (WRANS) in 1956, specialising as a steward and then working as a trainer at Recruit School. She served in HMA Ships Cerberus, Coonawarra, Penguin, Harman and Albatross. In 1971 she received her Long Service & Good Conduct Medal and in 1977 she was awarded the Queen's Silver Jubilee medal.
After 29 years service she retired in 1984, but continued to support the Navy through the WRANS Association.
She lived for the past 17 years on Macleay lsland where she shared a property with long tlme friend and former Navy Lieutenant A.M. (Winki) Higgins.
'Winki' Higgins was a Lieutenant Nursing Officer in the 'Navy; and she met Warrant Officer Steward Lenore Maiden back in 1984 at HMAS Penguin.
Both served with another long-time Macleay lslander, Lieutenant Nursing Officer, Michele Ferris.
Lennie and Winki decided to combine their resources many years ago; first living at Labrador on the Gold Coast. Michele and Winki were employed at Tibooburra as remote area nurses and Lennie found work in the tourist industry. Later Lenore and Winki bought a cottage on three acres at Eulo west of Cunnamulla in order to appreciate the Outback.
They 'sold up' and moved to Macleay lsland in 2003 and enjoyed the island lifestyle ever since.
In 1972 'Lennie' was the first woman to be promoted to the rank of Warrant Officer in the Royal Australian Navy.
Lennie paved the way for women wanting to serve in the Australian Defence Force.
She was a pioneer for women as she worked her way through the WRANS ranks at a time when the service of women in the ADF was not given the status and credit that it receives today.
She was a mentor and trainer, and she inspired countless young women to continue careers in the WRANS and other services.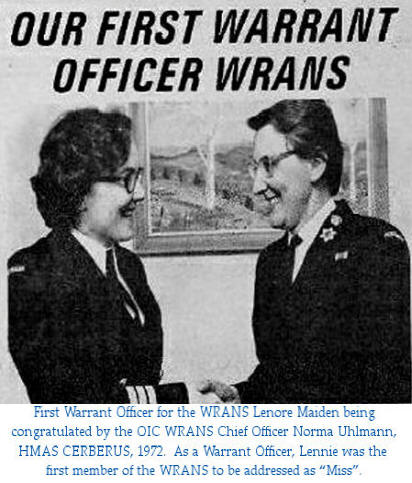 Lennie was a keen sportswoman having participated in the Murray River marathon canoe races in 1973 and 1974. She also competed in inter-service softball, hockey, athletics and swimming.
She trained a generation of young women who entered the Navy as WRANS and is remembered by them with affection as being fair and firm but also warm and humorous.
The Royal Australian Navy has changed considerably since 'Lennie' left the Navy: women were not permitted to serve aboard ships until 1983, and by 1985 the WRANS were integrated into the Royal Australian Navy.
As of October 2019, women make up 21.7 per cent of the Navy's workforce and can serve in any role.
In 2019, 47 years after 'Lennie' was promoted to Warrant Officer, the Royal Australian Navy promoted its first female Warrant Officer of the Navy, Deb Butterworth.
In December 2019, Chief of Navy, Vice-Admiral Michael Noonan, wrote to Warrant Officer Maiden to thank her for her decades of service and her devotion to duty.
"You and your generation of WRANS showed Navy the way forward towards the modern integrated workforce in which every rank and career path is open to all our members," Vice-Admiral Noonan wrote. (see full letter below)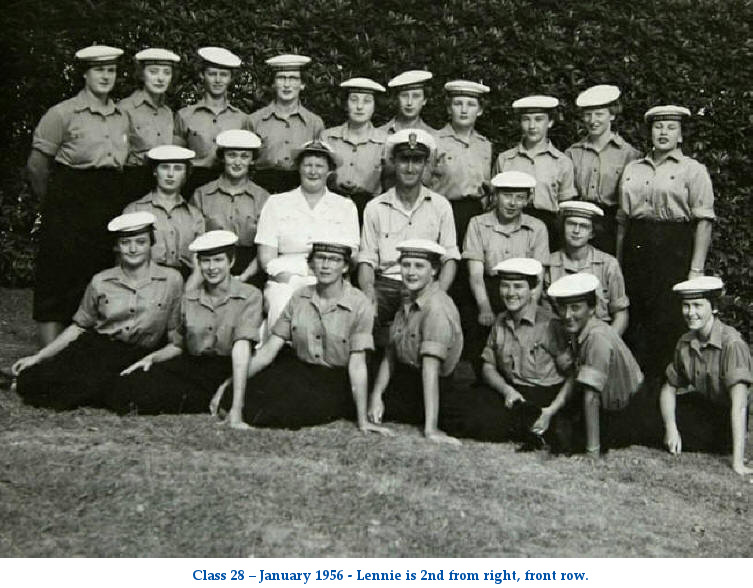 WO-N Butterworth said Miss Maiden was a trailblazer for generations of women.
"I want you to know how much the women of the Navy owe to you and the generations of dedicated WRANS who served in the decades before gender equality was achieved in the Royal Australian Navy," Warrant Officer Butterworth wrote in a letter to Miss Maiden.
"We women of the present Royal Australian Navy know we stand on your shoulders."
Warrant Officer Maiden passed away from cancer on 30 March 2020.
Warrant Officer Butterworth said Warrant Officer Maiden's legacy will be remembered. "Lennie demonstrated through her devotion to duty that women were fully entitled to be promoted on merit to high rank."
"Her rich legacy will be remembered and cherished by those she mentored and served with.
"The female sailors and officers who work as equals alongside their male shipmates across today's Navy owe a debt to Lennie and her generation which can never be repaid."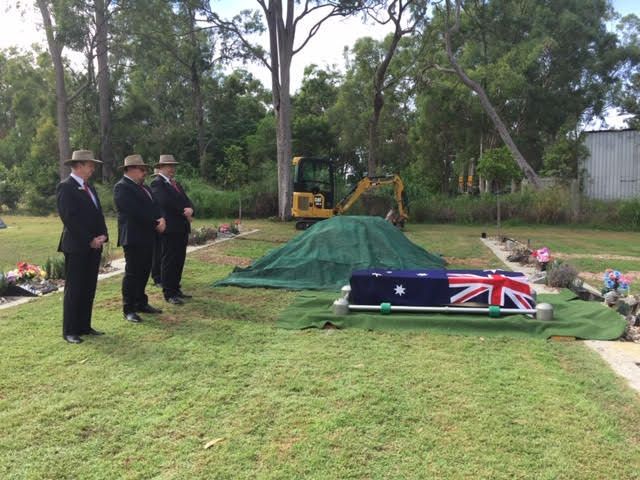 Unfortunately, due to COVID-19, Lennie did not receive the farewell she so richly deserved.
'LEST WE FORGET'
Sources:

Navy Daily

Minister for Veteran Affairs Press Release.