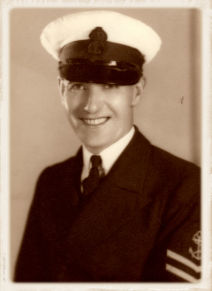 Francis Bassett 'Dick' Emms was born at Launceston, Tasmania on 28 November 1909 and following his schooling was employed in his father's tailoring shop. He joined the Royal Australian Navy on 14 March 1928 and undertook his initial training as an Ordinary Seaman at HMAS Cerberus. On completion of his training he joined the heavy cruiser HMAS Canberra in March 1929 and served in her until July 1930. Emms was promoted to Able Seaman in January 1930 and later qualified as a gunnery rating.
Although he had been christened as Francis he was known to his shipmates as Richard or Dick, and rarely used his given name.
Able Seaman Emms then spent much of the next seven years as a member of the Seaman Branch which included postings to Cerberus (1930-31) and the heavy cruiser HMAS Australia (1931-33). The cruiser took part in the normal training exercises off the east coast, coupled with a winter cruise to Queensland and a summer cruise to Tasmanian waters. Australia also circumnavigated the continent in late 1931 and 'showed the flag' visiting New Guinea and the Solomon Islands in the latter part of 1932.
In January 1932 he married Sylvia Rosetta Tame in Hobart and they later had a daughter Helen Rae. In 1933 Dick Emms was posted to the depot ship HMAS Penguin and later served in the destroyers HMAS Waterhen (1934) and HMAS Vendetta (1934-35). In April 1935 he joined the old coal burning cruiser HMAS Brisbane which was sent to England for scrapping and her crew then became the commissioning crew for HMAS Sydney (II). Francis Emms then served in Sydney from September 1935 until April 1937.
It was while serving in Sydney, in the Mediterranean, that his eyesight began to deteriorate and rather than leave the Navy he decided to transfer to the Supply Branch as a Cook. In January 1937 he undertook a short cookery course at Cerberus to assess his suitability and on 9 February 1937 he was rerated as a Cook (Officers). He was then posted to the destroyer HMAS Stuart in April 1937 and served in her until June 1938. Francis Emms was promoted to Acting Leading Cook (Officers) in April 1938.
Following his service in Stuart he was posted to the sloop HMAS Swan (1938-39) and the depot ship Penguin (1939-40), where he was confirmed in the rank of Leading Cook. He served again briefly in the heavy cruiser Canberra during mid-1940. In September 1940 Dick Emms was posted to the Darwin shore depot HMAS Melville where he was employed as a cook at the base and also in the boom defence vessels which operated the anti-submarine boom net in Darwin Harbour.
On 19 February 1942, Leading Cook Francis Emms was serving onboard the boom defence vessel HMAS Kara Kara when the Japanese conducted their first air raid on Darwin. During this raid dozens of Japanese aircraft attacked ships in the harbour, the RAAF airfield and indiscriminately bombed the city. Eight ships were sunk, dozens of aircraft destroyed and nearly 300 people were killed. During the attack, Kara Kara was singled out by several Japanese aircraft that commenced strafing the vessel. Emms manned one the vessels machine guns and returned fire and continued to do so even after he had been seriously wounded. His mates called to him to take cover, but he stood by his gun as another wave of Japanese zeros and bombers moved in devastating fashion over Darwin. His constant and accurate fire forced the Japanese aircraft to break off their attack and probably saved the lives of several of his shipmates.
Dick Emms was badly wounded as a result of the attack and despite being transferred to the hospital ship Manunda he died later that day and was buried at sea. He was subsequently awarded a posthumous Mention in Dispatches "For courage and devotion to duty in HMAS Kara Kara during an enemy air raid on Darwin on 19 February 1942". Many of his shipmates believed he should have been awarded the Victoria Cross.
From the start of the bombing of Darwin until November 12, 1943, there were 64 air raids on Darwin.
Australia lost eight ships in Darwin Harbour with 15 damaged, and two merchant ships sunk near Bathurst Island, north of Darwin. The wharf was badly damaged and police station, police barracks, post office and administrator's office were all destroyed.
The Japanese bombing of Darwin was suppressed by authorities to control panic in the southern states. Among those details was the story of Emms.
In recommending him for a posthumous Mention in Dispatches, his Commanding Officer, Lieutenant Commander Alexander Fowler, wrote:
"For courage and devotion to duty in action. While seriously wounded, he continued to fire his machine gun on HMAS Kara Kara during a continuous machine gun attack by enemy aircraft, thereby probably saving the ship and many of the ship's company."
A letter to his wife, Mrs Sylvia Emms, Fowler said:
"Your husband was killed in action under the most gallant circumstances.

"He was manning a machine gun and was constantly attacked by waves of diving aircraft; although seriously wounded early in the action, he continued to fire his gun till the enemy was finally beaten off.

"He then collapsed and died shortly afterwards."
Another letter from a friend of his to Mrs Emms said:
"He was killed or rather mortally wounded on one of our boom ships and he deserved the VC.

"He was on a machine gun and hit in the stomach, but carried on until it was all over and it wasn't until he collapsed that it was realised how badly he was hit.

"He never complained and though too weak to do much, gave the `thumbs up' as he was taken away."

This dedication plaque near the Launceston Cenotaph was unveiled in Launceston on 11 November 2015

Emms Division of the RAN Recruit School is named in honour of Leading Cook Emms MID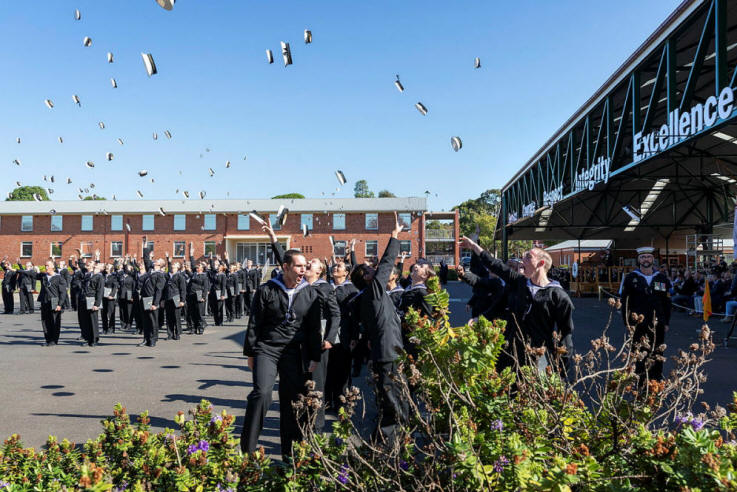 Graduating members of General Entry 388 Emms Division throw their hats in the air at the end of
their graduation parade on 30 April 2021 at the Navy Recruit School at HMAS Cerberus, Victoria.
Photo: Leading Seaman James McDougall
Medals and awards include:
Mention in dispatches
1939-45 Star
Pacific Star
Defence Medal
1939-45 War Medal
Australian Service Medal 1939-45

Sources:
Sea Power Centre - Australia
Northern Territory Library
Naval Historical Society - Greg Swinden
The Examiner
The Mercury
Monument Australia