Midshipman Robert Ian Davies MiD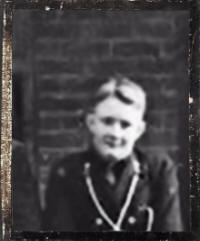 Robert Ian (Bob) Davies (1923-1941), naval officer, was born on 13 November 1923 at Greenwich, Sydney, son of Thomas Robert Davies, a native-born clerk, and his wife Mabel Irene, née Saville, from England. 'A friendly, fresh-faced lad', Bob attended North Sydney Boys' High School. In 1937 he entered the Royal Australian Naval College, Flinders Naval Depot, Westernport, Victoria. He gained colours for athletics and for Rugby Union football, a game in which he also showed 'strong, determined running'. Graduating near the top of his class in 1940, he was promoted midshipman on 1 January 1941 and sent to England for sea-training. On 8 March he joined the battle cruiser, H.M.S. Repulse. Although involved in little action, the ship spent long periods at sea and Davies demonstrated his mettle as an officer of quarters of close-range guns.
In October 1941 the British government decided to deploy a battle fleet to Singapore with the aim of deterring Japan from entering the war on the side of the Axis powers. It was intended that the principal units of the new Eastern Fleet would be Repulse, the battleship, Prince of Wales, and—to provide 'all-important self-contained air cover'—the aircraft-carrier, Indomitable. The fleet was not to have Indomitable's services, however, as she ran aground in the West Indies in November. An 'unbalanced token force' of two capital ships and their escort of destroyers arrived at Singapore on 2 December.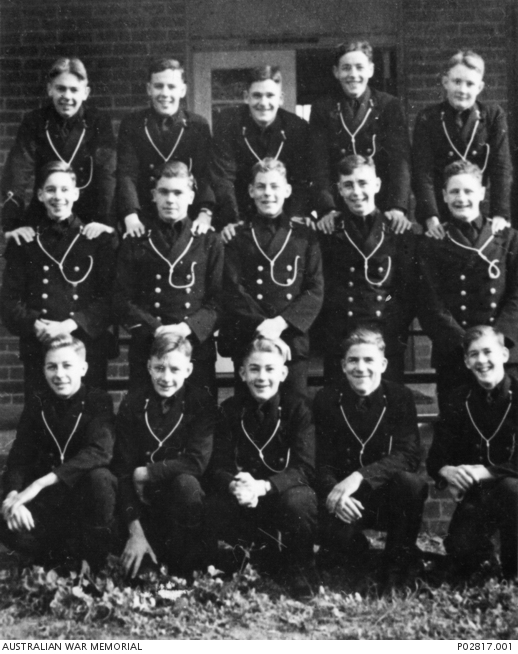 Group portrait of Cadet Midshipmen who were the third year class in 1939 and who originally
joined the Royal Australian Naval College in 1937. The average age of the cadets in this group
is 15 years. In keeping with RAN policy at the time when this group graduated they were posted
to continue their training in Royal Australian Naval and Royal Navy ships. Midshipmen John Austin,
Robert Davies(topRight), Bruce Dowling, Guy Griffiths and Peter Gyllies all served in the British battle
cruiser HMS Repulse and were on board when Repulse and the British battleship HMS Prince of Wales
were sunk by Japanese aircraft in the South China Sea west of Malaya on 10 December 1941.
On 8 December the Japanese landed troops in Malaya and Thailand. That afternoon Prince of Wales, Repulse and four destroyers sailed, as Force Z, to intercept enemy transports and their escorts at Singora, Thailand, which was thought to be the main invasion point. Because the Royal Air Force could not provide cover at Singora, Force Z's only hope was to make a surprise attack and withdraw. Next day Japanese aircraft were seen shadowing the force. The operation was abandoned and the ships altered course for Singapore. At dawn on the 10th they approached the Malayan coast at Kuantan to investigate a report of a new landing. The information proved to be false and they turned east, steaming towards the Anambas Islands. About 10 a.m. Japanese aircraft were sighted.
Force Z could have had air support on 10 December 1941. Yet Admiral Sir Tom Phillips, the commander-in-chief, did not request it. His reasons for not doing so are unknown. He died that day. Shortly after 11 a.m. high-level bombers attacked, causing minor damage to Repulse. Twenty minutes later a formation of torpedo-bombers appeared. Repulse evaded the torpedoes, but Prince of Wales was hit and stricken. Although a second assault by conventional bombers proved as ineffectual as the first, two more waves of torpedo-bombers destroyed both ships. Struck five times, Repulse rolled over and sank at 12.33 p.m.

Prince of Wales (left, front) and Repulse (left, behind) after being hit by torpedoes on
10 December 1941. A destroyer, HMS Express, is manoeuvring in the foreground.
Davies's shipmates last saw him 'firing an Oerlikon gun at enemy aircraft when he and the gun mounting were slowly submerging'. He was posthumously mentioned in dispatches. His citation read:
'For great bravery and devotion to duty when HMS REPULSE was sunk by Japanese aircraft on 10th December, 1941. At the time of her loss, this very gallant young officer was last seen firing an Oerlikon gun at enemy aircraft when he and the gun mounting were slowly submerging. Prior to this he had shown himself to be outstanding as Officer of Quarters of close-range guns. (13th October, 1942).'
For his naval service, Midshipman Robert Ian Davies was entitled to the following Defence honours and awards:
1939–1945 Star


Pacific Star


War Medal 1939–1945


Australia Service Medal 1939–1945


Mention in Despatches (Posthumous)

Victoria Cross Inquiry
On the 16 April 2011, the Parliamentary Secretary for Defence, Senator David Feeney, announced that the independent Defence Honours and Awards Appeals Tribunal will inquire into unresolved recognition for past acts of naval and military gallantry and valour.
"There have been numerous acts of gallantry and valour by Australian naval and military servicemen since World War I," Senator Feeney said. "I am pleased that the Tribunal will inquire into recognition for thirteen naval and military personnel. Their brave acts of gallantry and valour deserve greater recognition. Their stories are heroic."
On 01 March 2013 the Australian Government announced that no Victoria Cross (VC) will be awarded posthumously for any of the 13 individuals who were the subject of the recent Inquiry into Unresolved Recognition for Past Acts of Naval and Military Gallantry and Valour (the Inquiry).
Senator Feeney has accepted the recommendations. "I do agree with the Tribunal's findings. A VC must only be awarded in the most convincing of cases. It should only occur when there is clear evidence that maladministration has taken place by the decision-maker or if compelling new evidence has come to light."
Arguments put forward in submissions for the award
Several submitters made claims supporting the award of the Victoria Cross (VC) or other recognition for Midshipman Davies as follows:
Mr Mike Carlton submitted that Davies kept firing as Repulse took him down and that 'this conduct was confirmed by one of the other Australian midshipmen, Guy Griffiths' (Submission 92).

Two submissions compared Davies's actions to that of 'Jack' Cornwell, VC, RN, at the battle of Jutland, where 'though in fact a British strategic victory, [it] was perceived by many at the time as a tactical defeat' (Submissions 86 and 92).

Mr John Bradford cited Marder's book Old friends and new enemies that claimed that a high-ranking naval officer decided that 'in a disaster of such magnitude, no recommendations for rewards can be considered'. The view was put that whether this was true or not, the Admiralty's decision to grant only MID awards for the action was disgraceful (Submission 86).

Mr Bradford, while not supporting Davies's elevation to the level of the VC, recommended increased recognition by awarding Davies the Star of Gallantry (Submission 86).

Mr David Amos submitted that there was much that could support additional recognition for Davies. He said that Davies had refused the order to 'Abandon ship' and instead continued firing at the attacking Japanese torpedo bombers while throwing empty ammunition cases overboard between bursts to help those in the water to stay afloat. Davies remained at his post while the ship went down, continuing to fire until the end. Davies's conduct was of someone thinking very clearly and selflessly at the time, not a random spur of the
moment decision, but one that was taken with time to contemplate. He was aware that by staying at his post he would not survive (Submission 102).

Mr Amos submitted personal letters from Captain Tennant and Lieutenant Hayes to Davies's mother, in which both officers confirmed Davies's action, as noted previously at paragraph 12‑15. In his letter, Tennant said that he was 'going to recommend [Davies] for some award.' Hayes said that he 'did not actually see [Davies] in the action but … heard of his gallantry immediately and frequently from many sources afterwards. He kept that gun firing until the very, very end. When the order was given to abandon ship, [he] stuck to his place
of duty, telling those who got in his way on their passage over the side what he thought of them, and continued to fire at the enemy. He died giving of his utmost'. Hayes concluded his letter by noting that he would 'not be in the least surprised if his [Davies] gallantry is not recognised officially by the Admiralty'
(Submission 102 and oral submission Canberra 2 December 2011).
Arguments put forward in submissions against the award
Three submitters did not support the award of the VC or other recognition to Midshipman Davies. These are summarised as follows:
Rear Admiral Griffiths said that although he did not personally see Davies's action, he did not want to prevent consideration of Davies for additional recognition. But he submitted that 'any change of [the] award of MID
(Posthumous) to Davies … could not be made in isolation'. Griffiths argued that upgrading or changing the level of honour already awarded could not be done without also examining the other posthumous MIDs that were awarded for the action. Griffiths did not consider there was 'any good reason' to change the level of the honour because Tennant had 'at the time made out his list from first-hand knowledge of the situation … [and that it] was in [Tennant's] considered opinion, the situation of the sinking'. Griffiths further argued
that the award system needed to be preserved, and that would not be best achieved 'by overriding decisions that were taken 70 years ago'. He said it was 'not possible to revisit battle situations, so many years later; if at all' (Submission 174 and oral submission Sydney 9 February 2012).

Mr Graham Wilson submitted that since a survivor, Ted Matthews, had recalled 'I didn't hear the "Abandon ship" order'31, it was also possible that Davies did not hear the order and as such, that in doing his job, did not realise that he was fighting on to the death. Mr Wilson also argued that the honour already awarded to Davies could not be altered without examination of the other members of the ship's company who were also awarded an honour (Submission 99).

Mr Richard Pelvin submitted that Davies was third in order of merit of the 15 nominations put forward by Tennant. Mr Pelvin, as did Mr Wilson and Rear Admiral Griffiths, also argued that no consideration could be given to Davies without equal consideration of the two nominees above Davies (Page and Hamilton) (Submission 124).
Tribunal conclusion
The Tribunal concluded that on both process and merits, Davies's case was properly considered at the time. The process and procedures were not followed precisely, but considering the circumstances, they were appropriate and fair. Midshipman Davies was appropriately honoured with an MID (Posthumous). A merits review was unable to sustain any alternative outcome.
Tribunal recommendation
The Tribunal recommends no action be taken to award Midshipman Davies a VC for Australia or other further form of recognition for his gallantry or valour.
The full report on MIDN Davies is in Chapter 12 in the "Valour Inquiry Report". Chapter 12 can be downloaded here
Sources:

Australian Dictionary of Biography - Darryl Bennet
Australian War Memorial
Victoria Cross Inquiry
Valour Inquiry Report