Captain (Surgeon) Leonard Darby, CBE, MB, Ch.B, RAN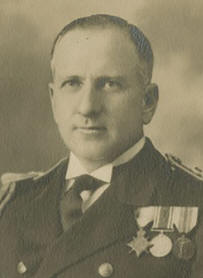 Leonard Darby's name will forever be associated with the most significant event in the fledgling RAN's early history – the sinking of the German cruiser Emden off the Cocos-Keeling Islands in the Indian Ocean on 9 November 1914.
Leonard Darby was born in George Town, Tasmania on 3 January 1889 and attended Church Grammar School, Launceston. He graduated MB BSc from Melbourne University in September 1912. Later in the same month he enlisted in the RAN and was the inaugural appointee to the Naval Hospital at HMAS Cerberus. After a short period of training with the Royal Navy he transferred as the senior surgeon in the new cruiser Sydney (I) on 21 June 1913. He was supported by an assistant surgeon and Sick Berth Steward 1st Class Thomas Edward Mullins who had served in the Royal Navy from 1900 to 1906. Sydney formed part of the escorting force to the 1st AIF troop convoy crossing the Indian Ocean to Egypt in November 1914.
On the morning of 9 November, Sydney was detached to investigate an unidentified ship off the Cocos-Keeling Islands. Engagement with, and destruction of, the German cruiser Emden followed, with the death of four members of Sydney's crew and the wounding of 13. During the ensuing action Darby and his small medical team tended to a stream of battle casualties. Many of the injuries were horrific in nature but in spite of this, and the appalling conditions in which his team found itself working, many lives were saved.
Following the action Sydney went to the aid of Emden which had been driven ashore on North Keeling Island. There, between 70 and 80 wounded German seamen were transferred by boat to Sydney where Darby, assisted by Surgeon Lieutenant ACR Todd, RAN, Dr H.S. Ollerhead from Cocos Island and one of Emden's surgeons, set about saving the lives of as many wounded men as they could. Together with Sydney's sick berth attendants, they operated continuously from 18:00 to 06:00 the following morning. Unfortunately, Emden's second surgeon became delirious and killed himself.
The exemplary medical work carried out by Dr Darby, at the age of 25 and barely a year after he had completed his degree, was testimony to the eminence of the Melbourne University Medical School. Surgeon Darby received no medal for his part in the action, but valuable recognition in the form of accelerated promotion to Staff Surgeon, which would not normally occur until four years after his first appointment as Surgeon.
The RAN Official History records:
"...it is perhaps worth while adding that the operations carried out under those exceptional conditions were so expertly done that in nearly all cases nothing remained for the land hospitals but to continue regular dressings and attention..."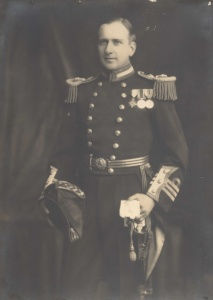 Darby remained on Sydney until 16 June 1918 by which time he had been promoted Surgeon Lieutenant Commander. He then returned to Australia serving in the depot ship HMAS Penguin for several years.
On promotion to Surgeon Commander, Darby joined the cruiser HMAS Melbourne on 22 May 1922 serving in her as the Fleet Medical Officer until May 1923. He then proceeded to the United Kingdom (UK) where he attended the Royal Naval College at Greenwich, before serving in the Royal Navy Hospital Haslar.
On the retirement of Staff Surgeon Alexander Caw, Darby thus became the senior surgeon in the RAN and in 1924 became Director General of Medical Services, which post he held until he was succeeded by Surgeon Captain Carr in 1934. The Melbourne Age noted that Darby's appointment as DGMS …was a further stage in the complete 'Australianisation' of the RAN. Surgeon Commander Darby is the first RAN officer to hold this post, which had recently been relinquished by Surgeon Captain G.A.G. Phipps of the Royal Navy who completed a three-year term.
In November 1925 Darby's loan to the Royal Navy ended and he returned to Australia serving in Penguin and in the naval wing of the Prince of Wales Hospital at Randwick, NSW. In 1927 he joined Navy Office, Victoria as the Director of Naval Medical Services with the temporary rank of Surgeon Captain. On 31 December 1932 Darby was confirmed in the rank of Surgeon Captain and at the same time appointed Honorary Surgeon to His Excellency the Governor-General for a period of three years. This appointment was subsequently extended on several occasions before being terminated on 7 November 1940.
In December 1932 Surgeon Captain Darby returned to the UK where he undertook a three month post graduate course before again serving in the Royal Naval Hospital Haslar.
Darby's final post was Principal Medical Officer of Naval Ships and Establishments in Sydney, which he held from 11 March 1934 until his retirement. This posting involved the oversight of Sydney's naval hospitals, medical personnel and civilian specialists at visiting warships and hospitals (the Naval wing at the Prince of Wales Repatriation Hospital, Randwick, HMAS Kuttabul at Garden Island, the new hospital HMAS Penguin at Balmoral, and Canonbury at Darling Point during WW II). His medical and representational responsibilities greatly increased upon the arrival of the British Pacific Fleet in 1945.
In June 1939 Darby was appointed a Commander of the Most Excellent Order of the British Empire in recognition of his long and dedicated service to the RAN and medical services in general.
During World War II Darby served ashore in Sydney in Penguin, Rushcutter and Kuttabul in a number of medical appointments including Principle Medical Officer for Ships and Naval Establishments.
Darby evidently enjoyed the representational aspects of his appointment, particularly during the war years when his wife was Secretary of the NSW Branch of the annual Red Cross Day Appeal. Among Red Cross gifts to the Navy was a mobile laundry presented in May 1945 that … will wash and dry 20 hospital sheets or 24 personal kits every 25 minutes.
Following a long and distinguished career in the RAN Surgeon Captain Leonard Darby, CBE, MB, ChB, RAN transferred to the retired list on 24 January 1946. After retirement, the Darby's moved to Queensland where he died on 14 February 1980; he is buried in the Caloundra Cemetery.
In 2014, relics that once belonged to Darby, were donated by his family to the Navy Historical Collection.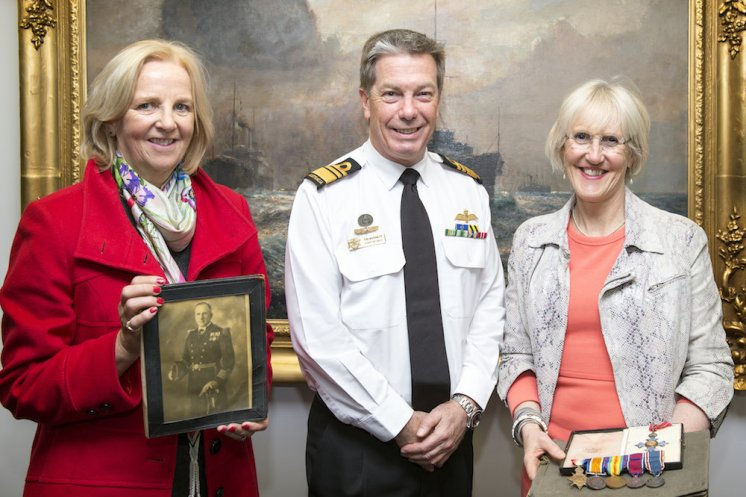 Helen Hill (left) and Doctor Claire Darby (right) present Chief of Navy, Vice Admiral Tim Barrett with
memorabilia from their great uncle, Surgeon Captain Leonard Darby, at Russell Offices in Canberra.
A letter written by Surgeon Darby, a photo album and medals and decorations earned during his 34-year naval career which spanned from 1912 to 1946, have shed new light on the Royal Australian Navy's first wartime victory at sea.
Doctor Claire Darby and Helen Hill presented their great-uncle's memorabilia to Chief of Navy, Vice Admiral Tim Barrett, on behalf of their family.
Vice Admiral Barrett said the donation was important for the Navy.
"A lot of our sailors are re-discovering some of our rich history, particularly now as we celebrate more than 100 years of Navy military action and peace-time activities," Vice Admiral Barrett said.
"The fact that we can demonstrate and tell the stories about these events reminds our people of the legacy we carry forward," he said.
"It's very important to us, we'll take great care of them and we'll make sure that others understand the story."
Dr Darby, the third in four generations of medical doctors in the family since Surgeon Darby, said the upcoming centenary of the Sydney-Emden engagement had inspired the family's donation.
"We thought gosh, it's going to be 100 years old this year, so it was now or never," Dr Darby said.
"It seemed that these were things that none of us should have, because they might get lost in the family and we thought it would be of interest to the Navy," she said.
"We hope that it will add to the knowledge of that particular event as time goes on and that's a good thing."
Helen said she was confident that the items would be well preserved and accessible to students and historians.
"We felt it was important and we didn't feel that we had the means to preserve it all," Helen said.
"We are just thrilled and overwhelmed by how wonderful it's all been," she said.
The historical items will be stored at the Sea Power Centre in Canberra, where they will be preserved for posterity.
The Post-Action Report of the Senior Medical Officer of HMAS Sydney after the engagement with SMS Emden.
The Medical Officer's Journal: HMAS Sydney 1913 to 1922


Sources:
Sea Power Centre Australia
Navy Historical Society of Australia
Navy Daily