Lieutenant Commander Kenneth James Brown RAN 21913 / O130

Ken was born on 10th September, 1921 in Hamilton, Victoria.
His father fought as a soldier in World War 1 and following a serious illness he passed away at age 36 in November, 1926, leaving a wife and 3 young sons, Clive (8), Kenneth (5) and Keith (3 months). More tragically Keith aged 3 months passed away just days after his Father.
This was the time of the Depression so there was no work about. His mother was now in a very difficult position with little or no income and could not provide for the children. The bank foreclosed on the house as they could not make repayments and with virtually no equity in the property they were forced out.
Big brother Clive was taken in by his Uncle Charlie BROWN and in 1927 Ken and his mother moved to Richmond when he was 6 years old. Soon after a baby girl was born in the house next door and Ken remembers having a nurse of this baby. The baby's name was Mavis, who, many, many years later would become his wife and remained so for 73 years. Ken crossed the bar the day after their 73rd wedding anniversary.
Life was financially tough for the Brown family and Ken in an effort to support his mother joined the RAN from Frankston, Victoria on 22nd March, 1938 as a 16 and a half year old boy.
He saw extensive war service and was away from home for almost the entire period of the war. He served in the Mediterranean, the Pacific, the Arctic and the Pacific and was awarded the following British / Australian decorations for his unique service:

1939/45 Star

Atlantic Star

Africa Star


Arctic Star (presented by Chief of Navy VADM T. Barrett and witnessed by the Governor-General of the Commonwealth of Australia, His Excellency General the Honourable Sir Peter Cosgrove AK MC (Ret'd) at HMAS CERBERUS in November, 2016)

Burma Star (Clasp Pacific Star)

Defence Medal

War Medal 1939/45

Australian Service Medal 1939/45

Australian Service Medal (Clasp FESR)

Returned from Active Service Badge

*Malta Medal

*Philippines Liberation Medal

*Occupation of Japan Medal 1946 – 1952

* These are Commemorative Medals issued by other Authorities.
Ken served in many ships and establishments, including:
SYDNEY II (first ship after initial training at Flinders Naval Depot) 29SEP38 to 18MAY39. Ship was lost with all 645 crew off the coast of W.A. on 19NOV41.
SS AUTOLYCUS (passage to England to commission HMAS PERTH 1)
PERTH I (19MAY39 to 25AUG40) Involved in the search for the German Battleship ADMIRAL GRAF SPREE down the east coast of South America. The search was called off when they received the news that the ADMIRAL GRAF SPREE had been intercepted by HMS EXETER, HMS AJAX and HMS ARCHILLIES resulting in the Battle of the River Plate. The River Plate was a stunning victory for the British. They then returned to Kingston to continue convoy protection work and they celebrated Christmas Day 1939 in Jamaica before returning to Australia via the Panama Canal in March, 1940.

On arrival in Sydney, they began escort duties on large troop ships including the "Queen Mary". They took them round the South Coast to Fremantle where British ships took over for the rest of the journey to Europe. HMAS PERTH was sunk by the Japanese in the Battle of Sunda Strait on 1MAR42. Over 300 of the crew were killed including the Captain Hec WALLER. Only about 200 of the 300 Survivors made it home to Australia after the horrors of the Japanese POW Camps in Singapore, Thailand and Japan.
CERBERUS (26AUG40 to 7NOV40)for advanced Gunnery Courses in preparation for a return to the U.K. to pick up one of the new N Class Destroyers just being completed.
On 8th November he embarked on the Blue Funnel Line HMAT NESTOR in Sydney for travel to Cape Town and then on the Troop Carrier ORONTES to Portsmouth for crew of 5 N Class Destroyers being built by the RN and being allocated to the RAN for the duration of the war. HMAT NESTOR (A71) completed 6 troop transport runs from Australia to England during World War 1 and a further 3 during World War II. What a coincidence serving on two different NESTORS.
PORTSMOUTH (HMS VICTORY 1) which were holding barracks for fleet units sailing out of Portsmouth. Its name was later changed to HMS NELSON to avoid confusion with the original HMS VICTORY which was berthed at the Portsmouth Naval Dockyard.
They moved into the barracks on 10th Jan, 1941 and that very night the Luftwaffe dropped 140 tonnes of high explosive bombs on Portsmouth, killing 171 people and leaving 3000 homeless. This was the heaviest of 67 air raids on Portsmouth between July 1940 and May, 1944. Following this raid Portsmouth's Mayor, Sir Denis Daley, wrote in the evening News:
"We are bruised but we are not daunted, and we are still as determined as ever to stand side by side with other cities who have felt the blast of the enemy, and we shall, with them, preserve with an unflagging spirit towards a conclusive and decisive victory".
The naval barracks baggage store was hit and an air raid shelter as well. A classmate of Ken's was killed at this time. The bombing wiped out the whole of the main street in Portsmouth.
What an introduction to Portsmouth. For the next few days Ken vividly remembers the unenviable task of body recovery from the wreckage. They were also required to act as sentries for unexploded bombs. This was only in ½ hour shifts to spread the load and ensure they kept full concentration. Ken said he felt sick and expressed horror at the damage caused by the air raid. Their clothes were covered in rubble and blood when recovering body parts for identification. He also remembers the fear he felt when sentry on unexploded bombs.
Clean up work continued until 31st January, 1941, and on 1st February, members of the N Class Destroyer pool went by rail to Glasgow, Scotland, to commission HMAS NESTOR, a brand new Destroyer. Ken was to be operator and Trainer on the multiple "Pom-Pom " Guns.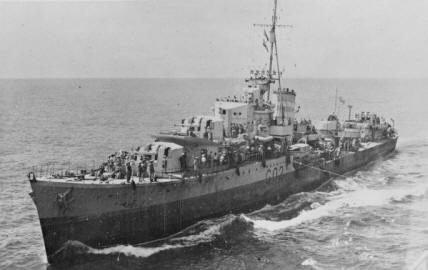 After commissioning, familiarisation and training on guns and other equipment they sailed from Clyde on 1st March, 1941 to Scapa Flow off the coast of Scotland in the Orkney Isles. This was to become their base from which they continued gun and torpedo training. From this base they carried out searches for German Submarines in the North sea and Arctic areas.
On 23rd May, 1941 the NESTOR left Scapa Flow as part of a 6 cruiser and destroyer escort for HMS HOOD, one of the biggest British Battleships in its search for the German Battleship BISMARK which was causing havoc in the North Sea and up into Iceland. The destroyers and cruisers being much smaller than the HOOD had to take rostered turns to leave the convoy to go into Iceland to refuel. It was whilst NESTOR was on its refuelling stop that the HOOD was engaged by the BISMARK and was sunk with all but two lives lost. The NESTOR was the only Australian manned ship in the hunt for the BISMARK. The search continued by the rest of the fleet up into Iceland chasing the BISMARK. The BISMARK met its fate and was sunk by air attack south of Iceland on 27th May, 1941 following notification of its position by the pursuing fleet.
They returned to Clyde for installation of a 20mm Oerlikon Gun and on 13th June they returned to sea to resume home fleet escort duties in the Atlantic. On 12th July they were then deployed as escorts for the Malta relief convoy. Escort duties continued from late August to mid September for convoys of troops and stores ships. On 13th September NESTOR was damaged by a premature explosion of depth charges whilst pursuing a German U Boat.
After calling in at Gibraltar they took passage to the U.K. and in October and November they were based at HM Dockyard Devonport for refit and repair which included the installation of 3 more Oerlikon guns. Ken was responsible for the care and maintenance of all four guns and was the actual Gunner on the port forward gun.
On completion of the refit NESTOR was nominated for escort of a military convoy to Gibraltar and sailed on 5th December from Devonport to Clyde to join the convoy. On 15th December, west of Gibraltar NESTOR spotted the German Submarine "U127" on the surface and opened fire with their heavy armament. The U boat then dived. Depth charge attacks were then carried out together with other ships. U127 was sunk, with no survivors, in a position south east of Cape St. Vincent. Navy records list NESTOR as the successful attacker. NESTOR became the first Australian Ship to sink a German Submarine.
NESTOR was then transferred to the Mediterranean Fleet to join a flotilla based at Alexandria. They maintained extensive convoy duties over the next 6 months with only a couple of trips back to Alexandria for repairs and replenishment. On 12th June they sailed from Alexandria as part of a convoy comprising a total of 31 ships, heading for the relief of Malta. On 14th June sustained air attacks took place and two mercantile ships were sunk. On 15th June NESTOR under heavy and sustained attacks from 3 x 1000lb bombs which did not get an actual direct hit but the explosions from the near misses broke the back of the ship. The boiler rooms were flooded which completely disabled the ship. The four members of the boiler room crew were drowned and about ten other personnel received injuries. Ken's Oerlikon gun was firing non stop at dive bombers firing their machine guns at the ships gun positions. When the bombs exploded Ken was blown from his gun platform sustaining injuries to his back when impacting on the bulkhead and then falling heavily on his left knee. First aid arrived as soon as bombing eased off and the bandages stopped the bleeding.
Further air raids continued and Ken was back on the Oerlikon gun, although in considerable pain. His injuries plagued him for the rest of his life. Later that evening (15th June) there was a burial at sea for the four members lost in the boiler room. Petty Officer Jack BULMER who was in charge of the boiler room, was a good friend of Ken's who also had come from Frankston and had lived 2 doors away from Ken's Mum.
As dusk fell and attacks eased, HMS JAVELIN came to assist NESTOR. Three attempts to tow her during the night
failed. The Ship was taking water fast. Dawn was near and as both Ships would be sitting ducks for further air attacks, the Captain of NESTOR gave the order to abandon Ship. Ken was asked if he could dismantle as many of the Oerlikons as possible. He completed two and passed them over to a Petty Officer Paddy COLLINS on the JAVELIN together with all ammunition. He had no time to get the other two at the end of the Ship. Many years after the war Paddy COLLINS transferred from the Royal Navy to the Royal Australian Navy and Ken and Paddy became re-acquainted and Paddy was made an Honorary Member of the N Class Association.
The NESTOR Bell was also removed and passed across to the JAVELIN and later presented to the Commanding Officer of NESTOR. After the war he used this bell as his front door bell at his home in Mt. Eliza, Victoria. On his death in the 1990's his family gifted the bell to HMAS CERBERUS where it is now proudly on display in the Museum with other artefacts recovered from the ship on that fateful day.
When all the crew, including the ships cat 'Pusser', (AB Clarrie ATTWELL from Bonbeach, Victoria had rescued the cat by going back on the NESTOR and sticking it down his overalls) were safely on board the JAVELIN, in the early hours of the 16th June, shallow depth charges were set to hasten NESTOR'S sinking to ensure it did not fall into enemy hands. Most of the NESTOR'S crew had lost all possessions so extra clothing was provided from the JAVELIN'S store. JAVELIN was ordered to go post haste to Alexandria. Heavy air attacks were encountered along the way.
On arrival in Alexandria Ken and the other injured sailors were taken by truck and admitted to the 64th Army General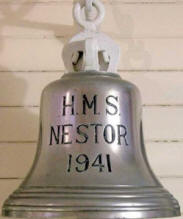 Hospital. Field Marshall ROMMELL and his troops were closing in on Alexandria so after 2 days, before a Doctor was available, the hospital was evacuated. Another truck took them to Royal Naval Depot, HMS PHOENIX on the outskirts of Alexandria where tents were put up in the desert. They were then transported to a Royal Navy Air Station for about a week. Here they were employed to replenish ammunition supplies for the aircraft. Ken still did not receive medical treatment as there were so many more serious injuries, with not enough medical staff available.
All walking wounded were then taken by truck along the banks of the Suez Canal and put on board an ex Norwegian Tanker, the ELIZABETH BAKKE. This Ship appeared to be reserved for Australian troops and was to head down to Australia. Some of the ex NESTOR crew members were sent to join the other N Class Destroyers but those who had been at sea for a long time or had injuries were allowed to stay on board for Australia. Ken had qualified on both counts as he had been at sea since the outbreak of war and was injured. Although only in RAN service for sixteen months, NESTOR had an action packed career in the Atlantic Sea, Arctic Sea and the Mediterranean. She is the only Ship in the proud history of the RAN that did not get to serve in Australian waters.
Ken disembarked the ELIZABETH BAKKE in Adelaide and travelled overnight by train to Melbourne. He reported for duty to HMAS LONSDALE in Port Melbourne and was sent on a months leave. However, this was short lived and after 2 days at home with his Mother in Frankston he received a telegram to advise that he was to join HMAS LOLITA immediately in Sydney. He joined on 10th September which was his 21st birthday only to discover that he was supposed to be a Leading Seaman but his promotion papers had never caught up with him. The Captain immediately promoted him and he received a fair bit of back pay as well. The LOLITA was a yacht which had been converted into a Patrol Boat and had been used in Sydney Harbour when Japanese Submarines had entered it in mid 1942. The LOLITA had a crew of just 7 with Ken being the only regular as the rest were Reservists. LOLITA was then sent to Newcastle to patrol coastal area, waterways and harbours which continued until 17th February, 1943 when he was posted to HMAS PLATYPUS in Cairns. HMAS LOLITA was subsequently sunk in New Guinea on 13JUN45.
PLATYPUS had been involved in the Darwin air raids but as it was a "boiler service unit" and repair ship for other ships, especially Corvettes, it was moved to a safer harbour to provide this vital task. PLATYPUS was a coal burning ship and coal supplies came by train and then transported to the ship. It then had to be carried by the bag load up the gangway. All members of the crew were involved in this task which didn't do Ken's back a lot of good. It always seemed to be raining when coaling was taking place. They got soaked through and covered in black coal dust by the time they were finished. The task could take nearly all day and then they had to scrub the decks until the Commander was satisfied.
Whilst serving in PLATYPUS, Ken was involved in all aspects of seamanship until Regulating Petty Officer and acting Master at Arms Stevens requested Ken to work with him in the ship's police office. Ken's new job meant that in the absence of the Master at Arms (RPO Stevens), Ken had to wear a navy police armband on his sleeve which authorised him to deal with any trouble on the ship. Fortunately no major incidents occurred to test him.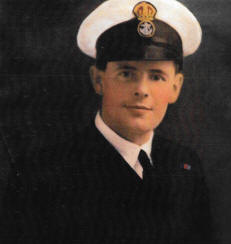 This new role gave Ken time to study and he was able to study for promotion to Petty Officer and he passed his examination on 4th November, 1943 and received his promotion on 1st January, 1944 to Acting Petty Officer.
Ken was posted to HMAS CERBERUS on 4th September, 1944, for employment at the new entry school for recruits. He was put in charge of 22 new sailors from Tasmania for 6 weeks of parade ground training. Being on the parade ground all of this time aggravated Ken's injured knee so he decided to apply for a course to transfer to Regulating Petty Officer, which was approved within about 48 hours from the date of application as the new course was about to commence. He was transferred to RPO on 4th November, 1944 on completion of the course.
On 12th December, 1944, he was posted to HMAS SHROPSHIRE which he was to join in Leyte in the Philippines. He went by train to Sydney and after a few days at the naval depot HMAS PENGUIN he along with other Australians embarked on board HMS HOWE, a Royal Navy Battleship for transfer to the Philippines. On arrival at Leyte, they were informed that SHROPSHIRE had not yet arrived in Port. A few weeks earlier Leyte was held by the Japanese, but the Americans had subsequently arrived and taken over the area. Ken was placed in charge of about 80 sailors and they were allocated prefabricated huts for the night.
During the night a group of Japanese attacked one of the huts containing American troops and slit the throats of about 20 soldiers and stole their uniforms.
The next morning in the "chow" line waiting for food, the Japanese, in American uniforms, were lined up with everybody else. They were not altogether but split up in small groups. All of a sudden American military police appeared with machine guns and opened fire obviously knowing their targets as they methodically cut down each of the small groups of Japanese with no obvious injury to anyone else. This event was quite frightening to Ken and his men and they were thankful no Australians we hit.
After about ten days in which the Americans were in constant action with the Japanese, they were advised that the SHROPSHIRE was engaged in naval activities against the Japanese Fleet and would not be coming to pick them up.
They then boarded a United States liberty boat, designed for troop movements, to take them to Manilla. After about a week under sail, they arrived in Manilla but the SHROPSHIRE had not turned up there either. It had been raining heavily and mud was everywhere. They were advised to find somewhere dry to sleep and the only dry spot out of the mud was the local cemetery where their resting place was to be on top of gravestone slabs. They were just pleased to be on top of the slabs, not under them.
The next morning (18th December, 1944) the SHROPSHIRE arrived and sailed next day to return to Leyte to rejoin task force 74. Ken's task was in charge of the "A" and "B" turrets magazine crew. In the first week in January, 1945, SHROPSHIRE rejoined Admiral Kincaid's 7th Fleet at Leyte Gulf. This vast armada of ships including 11 RAN vessels then made its way up the archipelago towards Luzon for the culmination of the South West Pacific campaign, the re-capture of Manila.
SHROPSHIRE was in company with AUSTRALIA, ARUNTA and WARRAMUNGA in Admiral Oldendorf's bombardment group, consisting of 6 battleships, 12 escort carriers, 8 cruisers and 46 destroyers.
The closer the allied force got to Luzon on its four day journey from Leyte, the greater the number of kamikaze aircraft that tried to destroy it. Despite the fact that 60 American fighters maintained combat air patrol over the fleet from dawn to dusk, one of Kincaid's escort aircraft carriers was sunk and two light carriers, two battleships and five cruisers were seriously damaged in suicide attacks. As a sign of things to come, in Ken's group, AUSTRALIA lost 25 officers and sailors killed and 40 wounded when a kamikaze dived on the port side of the upper deck amidships, while ARUNTA had a hole blown in her side when a "zero" plunged into the sea and its 250 pound bomb exploded against her hull, killing 2 sailors. Both ships were patched up and continued North with the bombardment group.
At 1100 on 6th January, SHROPSHIRE and AUSTRALIA opened fire on targets on Poro Point and the town of San Fernando on the eastern side of the Lingayen Gulf. It was a day of high drama. Kamikaze's swarmed down like angry hornets amid the lightning like flashes of the big guns and the thunder of anti-aircraft batteries. Eight inch shells were fired in a barrage from Ken's gun and the others which seemed to deter the kamikazes' who went for other ships. About an hour later, the battleship NEW MEXICO, just ahead of SHROPSHIRE, was hit by a Kamikaze. On board SHROPSHIRE, it appeared that the Kamikaze had been diving on AUSTRALIA which was 600 metres astern, but the pilot suddenly gained height and flew down SHROPSHIRE'S starboard side. As the plane flashed past at masthead height, the cruisers gunners shot off its tail, and, as a result, it crashed into the port side of the NEW MEXICO'S bridge.
At 0534 on the same day, AUSTRALIA was again victim of a suicide attack when a dive-bomber approached SHROPSHIRE'S starboard quarter. The plane encountered such a barrage of "bofors" and 8 inch shells that it turned away and crashed into AUSTRALIA. The plane's bombs exploded, causing a fire, putting two guns out of action, killing 14 officers and sailors and wounding 26. One hour later it was SHROPSHIRE'S turn as she was steaming off Poro Point after completing her bombardment. Out of the setting sun a kamikaze from about 300 metres up, came screaming down at the bridge. The port pom-pom gun opened fire as everyone on the bridge dived for cover. There was a huge explosion and everyone got drenched with what they thought was petrol. In fact, the plane had been shot in half, one half went over the starboard side with a bomb which exploded and sent 60 foot of water on to the ship. The other half fell harmlessly portside. There were no injuries although a lot of nerves were rattled as they continued back to Leyte Gulf.
After the invasion of Luzon the ship returned to Sydney for refit and repairs. Her refit completed, SHROPSHIRE, en route to the forward area, arrived in Labuan Island, Brunei Bay on 18th June, 1945. Here she bombarded a Japanese strong post which had defied all attempts by army artillery to dislodge it. SHROPSHIRE carried out her final operation of the war when she covered the landing of Australian troops with bombardments at Tarakan and Balikpapan, Borneo 0n 1st July, 1945.
After Japan capitulated, the SHROPSHIRE was one of the first ships of the allied fleet to enter Tokyo Bay when surrender was signed on 2nd September, 1945. On this occasion she wore the broad pennant of Commodore John Collins RAN who had rejoined the fleet after having recovered from wounds received at Leyete Gulf. In Tokyo Bay the ship was moored close to USS MISSOURI on which the surrender was signed.
SHROPSHIRE remained in Tokyo Bay as part of the occupation forces until 18th November, 1945, when it was relieved by HOBART. She arrived back in Sydney on 30th November, 1945, carrying an extra 600 troops being returned to Australia.
After extensive work to clean the ship up it again sailed in April 1946, as it had been selected as the ship to carry
the Australian victory contingent to England with men and women of the Australian forces who had earned honours such as the Victoria Crosses and the like. They returned to Australia via the Suez Canal, but this time the circumstances were different as they didn't need to worry about enemy activity.
On 16th November, 1946, Ken was posted to HMAS LONSDALE, the Naval Base in Port Melbourne. This represented a very welcome change from almost 7 years at sea.
He was then transferred to Flinders Naval Depot (HMAS CERBERUS) on 22nd April, 1947. Ken was promoted to Master at Arms just three weeks after his 26th birthday. This made him the youngest ever to achieve this rank in either the Royal or Royal Australian Navies, an achievement Ken is deservedly proud of.
On 6th April, 1950 Ken was posted to HMAS AUSTRALIA as Master at Arms. Within a few weeks of joining the ship, Ken completed his English examination which was the final one needed for him to apply for a course, further examinations and promotion boards for commissioned rank.
Shortly thereafter the AUSTRALIA sailed from Sydney to Hervey Bay, Queensland where gunnery drills and training were carried out. The crew had believed that they were in Queensland to be prepared to move as trouble was brewing on the Korean Peninsula.
However, they were soon sailing at full speed back to Sydney. On arrival extra stores and food were loaded and the crew were issued with winter clothing including heavy coats. Korea was in winter, with sub-zero temperatures, so chatter among the men still favoured that destination.
On departure the ship headed south towards Melbourne. On this journey they were then told that a Russian Doctor was very ill on Heard Island in the Indian Ocean southwest of Australia, almost down to the Antarctic Circle. Rough seas accompanied them all the way to the Island.
The ship was unable to make the last short distance so its "Cutter" was launched. Lt Commander Bill Dovers took the cutter, which had an engine and six men on oars. Both the engine and towing were needed to reach the doctor. Once the doctor was stretchered on board, AUSTRALIA set sail for West Australia. The doctor was able to disembark on foot but had an appendix operation a few weeks later. Ken found it hard to comprehend that 600 naval personnel were put at risk to save one Russian doctor.
On 25th October, 1950, much to his surprise, Ken was posted to HMAS CERBERUS to undertake a course for Commissioned Master at Arms and professional examinations. On 2nd January he was promoted to Commissioned Master at Arms he was then posted to HMAS LONSDALE in Port Melbourne as the Provost Marshal, Melbourne. This position lasted 6 and a half years and during this time there were two significant major events requiring Ken's involvement.
In 1954 Her Majesty Queen Elizabeth II visited Melbourne. During this visit Ken had 3 patrol vans working with the Victoria Police through their D24 divisional wireless network. Ken had a special pass enabling him to go through all police barriers. Ken and Mavis were invited and had special reserved seats at a shrine of remembrance service that the Queen was attending.
In 1956 the Olympic Games were held in Melbourne. Many foreign ships arrived for this event. As the State Government had little experience of handling such a huge event, they requested the three services, Navy, Army and Air Force to assist. They were used as ushers to move people from venue to venue and to handle security arrangements. Ken's responsibility was to co-ordinate all the Naval personnel involved including shore patrols. Ken was also a friend of the official games starter Mr Julius Lockington Patching, a man who coincidentally had served alongside Ken on HMAS PERTH. He was later to become president of the committee for the Olympic Games.
On 1st April, 1957, Ken received a promotion to Lieutenant (Regulating) and on 12th August he was posted to HMAS CERBERUS as Lieutenant (Regulating).
On 10th November, 1958, Ken received a posting to HMAS KUTTABUL, a depot in Sydney. His position now was Naval Provost Marshall, East Australian Area. His actual workplace was located at the Gunnery Instruction Centre, Woolloomooloo.
In late 1962, the Commonwealth Games were held in Western Australia. Ken was flown over to Perth with 2 of his staff to organise the shore patrols. Many ships from all Commonwealth countries came into port and one count estimated 17,000 sailors were in Fremantle. Obviously the logistics of controlling such numbers needed expert help and Ken's experience at the 1956 Olympic Games stood him in great stead.
On 6th January, 1963, Ken was posted back to HMAS LONSDALE in Port Melbourne to again take the position as Provost Marshal Victoria. Ken continued in this role controlling the conduct of all personnel arriving and departing Melbourne until 3rd March, 1968 before again taking up the role of Naval Provost Marshal, Eastern Australia Area in Sydney.
During this time, many American ships arrived in port for repairs and maintenance and rest and recreation due to activity in the Vietnam war. On arrival, Ken and the senior police officer of Sydney would be transferred by helicopter sent over to Mascot from the aircraft carriers or by Sydney water police if air access was not possible. The Ship's Commanding Officer would be waiting for Ken on boarding so that Ken, over a closed circuit television, could brief the crew, sailors, marines and officers on how to conduct themselves and not discredit the United States Navy. It should be noted that these crewmen had just returned from the Vietnam war zone and were more than likely wanting to let off steam. Ken would advise them that combined United States and Australian shore patrols would be on the ground at all times. It was Ken's responsibility to liaise with the US patrols and ensure their co-ordination with the Australian patrols and civil police. Ken was in constant contact with USN Navy Officers based at the American Embassy in Canberra and received several letters and commendations of appreciation for the way activities were controlled in port, resulting in substantially less infringements by US Naval personnel.
During all of his time in Sydney, as well as US ships, Australian ships were continually entering and leaving port and Ken was responsible for the movement and conduct of all officers and crew while on shore leave.
Ken was promoted to Lieutenant Commander in April, 1970. Since becoming an Officer on 3rd January, 1951, Ken and Mavis received many invitations to official functions, cocktail parties etc. On becoming a Lieutenant Commander the level of importance of these functions were increased.
In April, 1970, Ken received a citation from the Commander in Chief of the USN Pacific Fleet, Admiral John J. Hyland for service to the USN.
Following the end of the Vietnam war in 1973, activities and movements of foreign Naval vessels rapidly declined. Ken's duties then returned to routine activities of the Naval Provost Marshal's office.
By late 1973 Ken was starting to re-consider his future. The Branch of the Navy in which he worked did not have a position for a Commander and Ken already was occupying the senior post. There was no chance for promotion so he decided to apply for a transfer to a different branch located back in Melbourne where he still owned his family home in Frankston. On application for transfer, Ken was offered the position of Staff Officer, Reserve Training at HMAS LONSDALE in Melbourne which he readily accepted, taking up the position on 11th February, 1974. Ken's new position involved teaching seamanship skills to Reserve Officers and Sailors. At his disposal was the Attack Class Patrol Boat, HMAS ARROW, a ship which was to subsequently end up being destroyed in Darwin's Cyclone Tracy. Ken also ran Tuesday evening training classes for Reserve Seaman Officers.
One lunchtime in the Wardroom, Ken met a Gunnery Lieutenant Paddy Collins who had transferred across from the Royal Navy to the Royal Australian Navy. While having a beer Paddy remarked that he had been on HMS JAVELIN during the war. On looking at him, Ken realised that as the NESTOR was alongside the JAVELIN to offload the crew after its damage, this was the same Paddy COLLINS he had handed the Oerlikon guns to. Paddy was then made an honorary member of the N Class Destroyers Association. What a small world this is.
Ken discovered that the Navy operated a scheme for long time serving members whereby they could be employed for six weeks by a prospective Employer whilst remaining on full pay in the Navy. This gave the Employer an opportunity to assess their suitability for full time employment.
After this Resettlement training Ken submitted his resignation to the Naval Board. Ken's service with the full time Navy terminated on 31st May, 1974, when he was transferred to the RAN Emergency List 3 months before his 53rd birthday.
Ken became a successful Financial Investor and remained so for the rest of his life. Ken and Mavis remained in Frankston until 1995 when they moved to Barooga in New South Wales and then on to a retirement home in Berrigan, NSW in 2016.
Ken passed away in Berrigan on 26th May, 2020, aged 98 years. He is survived by his wife of 73 years Mavis and his children Sandra, Rodney, Ken Jnr. and Keith with numerous Grandchildren and Great Grandchildren.
Ken was a member of many organisations:

70 year Member of RSL
Life Member – HMAS SYDNEY Association (Victoria)
N Class Destroyers Association
HMAS PERTH Association
Frankston RSL
Berrigan RSL and
*39ers Association

*As described by George ROSS, Ex NX1136, Signals 6 Aust. Div., A.I.F. - The 39er is a Veteran of World War 2 who attested for active service in the Australian Forces on or before 31st December 1939, and served overseas; or is a British Commonwealth Veteran of like qualification.
Apart from that "qualification", there is nothing special about a 39er. In common with all who have taken up arms in defence of country, the 39er has knowledge of the personal sacrifice which is the cost of serving – loss of liberty, subjugation of private will, and the ever present threat to survival implicit in the commitment to serve.
Still, his or hers was service of the earliest and longest. Commonly, if surviving, it was for the duration of that desperate six year struggle.
Invariably the 39er saw service in the Middle East campaigns in the Western Desert, Greece, Crete, Syria; and on returning home battle-trained to an endangered Australia was thrust, almost immediately, again into the jaws of the lion to battle in and over the tropical jungles and waters of the South Pacific.
Little wonder then that the 39er, while bearing first allegiance to battalion, regiment, ship or squadron, has also a quite pride in being identifiably among those who were the first of the many.

The Victorian Chapter of the 39ers Association closed down in 2009 due to ageing Membership.
A farewell luncheon was held at RSL House, Collins Street Melbourne and attended by approximately 15 Victorian 39ers, their Spouses/Carers and distinguished Guests. At the luncheon they donated $500.000.00 equally between Legacy and the Children's Hospital. It is believed that Ken was the last of the Victorian 39ers. He was certainly the last Navy 39er Association Member in Victoria. The last President was ex AB Allan "Fags" FERRARI, Treasurer ex AB Gordon "Knocker" WHITE and Secretary CHAP Wally "Very" SMART OAM, MBE, Salvation Army.
NOTE: Most of these notes and records were put together during April, May and June of 2013 by Dennis STAFF of Barooga, NSW, after extensive interviewing of Ken BROWN. He was assisted by Linda RODGER and Fred KENT and was self published in bound book form by Ken BROWN.
Following Ken's passing, Chief of Navy Vice Admiral Mike Noonan AO RAN, sent the following signal:
FROM: CN AUSTRALIA
ACTION: AIG 3600
RAN ALL SHORE

VALE: LIEUTENANT COMMANDER KENNETH BROWN RAN (RETD)

1. IT IS WITH GREAT SADNESS THAT I INFORM YOU OF THE PASSING OF LIEUTENANT COMMANDER KENNETH BROWN. HE JOINED THE SHIPS COMPANY OF HMAS SYDNEY (II) IN 1938. HE WAS IN THE COMMISSIONING CREW OF HMAS PERTH (I) IN 1939. HE WAS THE LAST MEMBER LIVING OF THE SHIP'S COMPANY OF HMAS NESTOR, THE DESTROYER SUNK IN THE MEDITERRANEAN IN 1942.

2. BORN IN 1921 KEN BROWN JOINED THE RAN IN MARCH 1938 FROM FRANKSTON VICTORIA AS A 16 YEAR OLD ORDINARY SEAMAN 2ND CLASS. DURING THE WAR HE SERVED IN THE MEDITERRANEAN, THE ATLANTIC, THE ARCTIC AND THE PACIFIC. HE WAS SERVING IN HMAS NESTOR DURING THE PURSUIT OF THE BATTLESHIP BISMARCK IN THE DENMARK STRAIT NORTH OF ICELAND IN MAY 1941.

3. IN THE MEDITERRANEAN IN JUNE 1942 HMAS NESTOR WAS HEAVILY BOMBED AND DISABLED. ABLE SEAMAN BROWN WAS BLOWN FROM HIS GUN PLATFORM BY THE FORCE OF THE EXPLOSION AND INJURED. AFTER RECEIVING FIRST AID TO STOP HIS BLEEDING HE RETURNED TO HIS HIGH ANGLE OERLIKON GUN AND OPENED SUSTAINED FIRE ON THE DIVE BOMBERS ATTACKING NESTOR WITH MACHINE GUNS. THAT NIGHT, WHEN IT BECAME NECESSARY TO ABANDON AND SINK NESTOR, HE DISMANTLED TWO VALUABLE OERLIKON GUNS AND PASSED THEM TO HMS JAVELIN WITH THEIR BELTS OF AMMUNITION.

4. PETTY OFFICER BROWN SERVED IN THE DEPOT REPAIR SHIP HMAS PLAYPUS AND IN HMAS LOLITA IN NEW GUINEA. HE WAS PRESENT IN TOKYO BAY WHEN SERVING IN THE CRUISER HMAS SHROPSHIRE TO WITNESS THE SURRENDER OF JAPAN TO THE ALLIES IN SEPTEMBER 1945.

5. IN HMAS AUSTRALIA (II) IN 1947, AGED JUST 26, HE WAS PROMOTED TO BE THE YOUNGEST MASTER AT ARMS (CPO REGULATING BRANCH) IN THE HISTORY OF THE RAN. THIS PROMOTION WAS FOLLOWED BY HIS BEING COMMISSIONED IN 1951.

6. LIEUTENANT COMMANDER BROWN CONTINUED HIS CAREER IN THE REGULATING BRANCH AS A NAVAL PROVOST MARSHAL AT HMAS KUTTABUL AND HMAS LONSDALE. HE RETIRED FROM THE NAVY IN 1974 AFTER 36 YEARS OF VALUABLE SERVICE IN PEACE AND WAR.

7. IN 2016 HE WAS AWARDED HIS BRITISH ARCTIC STAR BY CN IN RECOGNITION OF HIS 1941 SERVICE IN HMAS NESTOR NORTH OF THE ARCTIC CIRCLE.

8. KEN BROWN WAS A LIFE MEMBER OF THE HMAS SYDNEY ASSOCIATION AND WAS PRESENT TO WITNESS THE LAUNCH OF HMAS SYDNEY (V) IN MAY 2018. HE WAS THE LAST SAILOR TO HAVE SERVED, BEFORE THE WAR, IN THE CRUISER SYDNEY (II), WHICH WAS LOST WITH ALL 645 SHIP'S COMPANY AFTER ACTION WITH THE GERMAN RAIDER KORMORAN IN NOVEMBER 1941.

9. ON BEHALF OF THE SERVING MEMBERS OF THE RAN, AND THE EXTENDED NAVY FAMILY, I EXTEND CONDOLENCES TO LIEUTENANT COMMANDER BROWN'S FAMILY AND FRIENDS. NAVY WILL BE REPRESENTED AT HIS SIZE RESTRICTED FUNERAL SERVICE.


CN