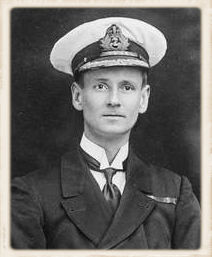 Leighton Seymour Bracegirdle was born on 31 May 1881 at Balmain, New South Wales, son of Frederick Bracegirdle, an English-born master mariner, and his wife Sarah Elizabeth, née Drewe. He was educated at Sydney High School and became a clerk. In August 1898 he joined the New South Wales Naval Brigade (Naval Militia) as a Cadet, was promoted Midshipman two years later and in 1900-01, during the Boxer Rebellion, served with the New South Wales contingent to the China Field Force. Next year he saw action in the South African War as a Lieutenant in the South Africa Irregular Horse; once he narrowly escaped death when he was shot by a sniper after being thrown from his horse.
After the war Bracegirdle resumed work as a clerk, remained in the naval militia and on 19 December 1910 married Lilian Anne Saunders at St Philip's Anglican Church, Sydney. He joined the Royal Australian Navy as a Lieutenant in 1911 and was District Officer at Newcastle until World War I. In August 1914 he enlisted in the Australian Naval and Military Expeditionary Force (ANMEF), served as a Staff Officer in the seizure and occupation of German New Guinea and in November was made Acting Lieutenant Commander. The ANMEF was disbanded on 18 February 1915 and later that month Bracegirdle was appointed Commander of the First Royal Australian Naval Bridging Train.
Originally intended for service in Flanders, the train embarked in June, was diverted to the Dardanelles, and attached to the IX British Army Corps under General Bland. Its first operational task, carried out under continual shrapnel fire, was the erection of piers and pontoons for the Suvla Bay landing of 7-9 August. The unit served at Suvla until the evacuation and had charge of pier-building and maintenance, the landing of troops, stores and ammunition and the provision of the beach water-supply. On 28 September Bracegirdle was wounded while salving a wrecked store-lighter but he remained on duty. From early December the bridging train was preparing for the evacuation; Bland praised its work during this period, describing it as a specially valuable and well-commanded unit. Bracegirdle, who was hospitalized with malaria and jaundice on 19 December, was twice mentioned in dispatches for distinguished service at Suvla.
He resumed command on 31 January 1916 and for the next three months the train served with I Anzac Corps, operating on the Suez Canal. Late in April it was reassigned to IX Army Corps in the southern section where, in addition to controlling canal traffic and conveying military stores, it built substantial wharves for unloading heavy engines for the desert military railways. Bracegirdle was awarded the Distinguished Service Order (DSO) in June and was mentioned in dispatches in September. In mid-December, during the advance into Palestine, his unit landed stores on the open coast of the Sinai Desert off El Arish. Early in 1917 the Naval Bridging Train was disbanded; he relinquished his command on 5 March. In April he was promoted Commander and returned to Australia as officer-in-charge of troops on the Willochra. He was District Naval Officer at Adelaide in 1918-21 and at Sydney in 1921-23. He had also been a president of the Commonwealth Coal Board in 1919-20. He was made Director of Naval Reserves in 1923 and next year was promoted Captain.
In 1931 Bracegirdle became Military and Official Secretary to the Governor-General Sir Isaac Isaacs, and moved to a cottage in the grounds of Yarralumla, Canberra. His appointment continued during the terms of office of Lord Gowrie and the Duke of Gloucester, and extended into the early part of Sir William McKell's term. He brought to the post an appropriately commanding manner and an imposing presence but also coped well with the economies forced upon Government House administration by the Depression and World War II. He retired from the navy in 1945 in the rank of Rear Admiral, and from his post as official secretary in 1947; in January he was appointed a Knight Commander of the Royal Victorian Order (KCVO).

Left: Captain Bracegirdle in full dress uniform, circa 1924.
Right: Rear Admiral Bracegirdle at the end of his naval career, circa 1945.

'Brace', as he was generally known, remained active throughout his retirement, working for many years for his friend Essington Lewis as a part-time liaison officer with the Broken Hill Proprietary Co. Ltd and holding directorships of three other companies.
In retirement, he enjoyed fishing, shooting and tennis. He and Lady Bracegirdle liked tending the garden at their French's Forest home; a daily custom was the hoisting of the Australian flag in the yard. Life changed irretrievably in 1966 when Leighton's life partner, Lilian, passed away. They had enjoyed 55 years of marriage. Survived by his two sons Rear Admiral Bracegirdle died on 23 March 1970 and was cremated.


Rear Admiral Bracegirdle's decorations, from left: Companion of the Order of St Michael & St George; Knight Commander of the Royal Victorian Order; Distinguished Service Order; campaign and Coronation medals.

Source:
Royal Australian Navy